General
2020: Rounding Up A Year Like No Other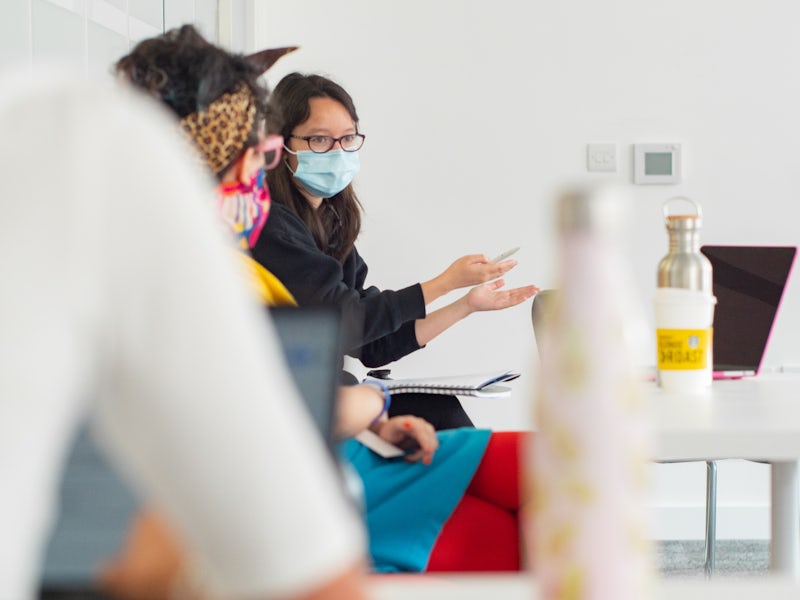 Ruth is the Head of Sales & Marketing at Northcoders. We asked her to share her review of 2020, and tell Northcoders story of a year that threw challenges at us all.
---
2020 wasn't the year we planned. In many ways, this year has been horrendous. We have all had to adapt to a totally new way of living. People we know have had to make difficult decisions about reducing the size of their business, or lost their business. People we know have lost their jobs and had to struggle to make fresh starts. And some of the people in our community have paid the ultimate price in saying goodbye to someone they love.
I sincerely hope that, whoever is reading this, you are looking after yourselves at what continues to be a very challenging time for many people, and will be able to spend time with your loved ones over the festive period – even if that means seeing them remotely.
At Northcoders, we have done our best to rise to the challenge with a resolve to do good and provide hope. To do right by the people who relied upon us for their careers. To find ways to support more people to make the change that's right for them. And we've tried to use this as an opportunity to adapt and innovate to prepare for tomorrow.
In that, I believe we have succeeded. For while this year has been tough, we have managed to find plenty of silver linings, and plant seeds of growth for 2021.
Back to the start: our new campus
We started the year filled with optimism. We started with a joyous celebration of our new campus at Manchester Technology Centre on Oxford Road, where we welcomed Andy Burnham to open our brand new campus in Manchester, alongside Jo Morfee, co-founder of InnovateHer and Tom Renn of Bruntwood.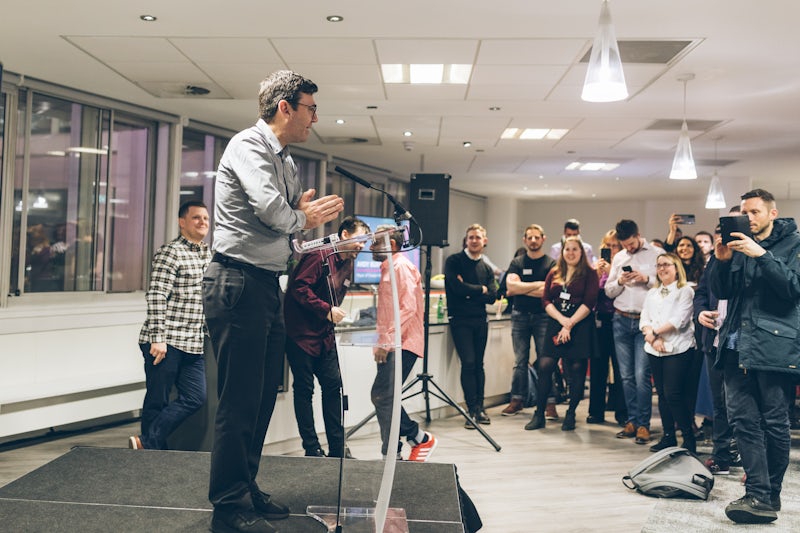 Andy Burnham joined us at the grand opening
It was an exceptional evening. I feasted upon top notch food and a cheeky cocktail and enjoyed the company of friends from our partners, and of our graduates. It was a celebration of the new campus, but the night also focussed on how more people from diverse backgrounds should be encouraged to pursue tech roles in the North.
"I really do love Northcoders. They're an "all people" business. They have embraced the idea that our strength is our diversity. Companies in Greater Manchester have that wider conscience about being there for everyone and Northcoders really embodies that. In some ways, Northcoders corrects the failings of the system and are proof that we have got a talent pipeline into the growing digital and tech sector"
Lockdown Hits
If you'd told me then that in 10 months, every single one of our students would be learning to code remotely, after opening a campus with capacity for 100, I wouldn't have believed it. We all know what happened next. With the "stay at home" order, Northcoders had to adapt – and fast.
But our teams proved equal to the challenge. It was a huge relief after we asked for the first round of feedback from our students after the first fortnight of doing things remotely. I remember reading through the responses nervously, but people were saying the same thing – it was working so much better than anyone could have imagined. 
It really was as though we'd managed to bring the in-person experience online. We believed it would work, but to see the proof was a big moment that stood out for me this year.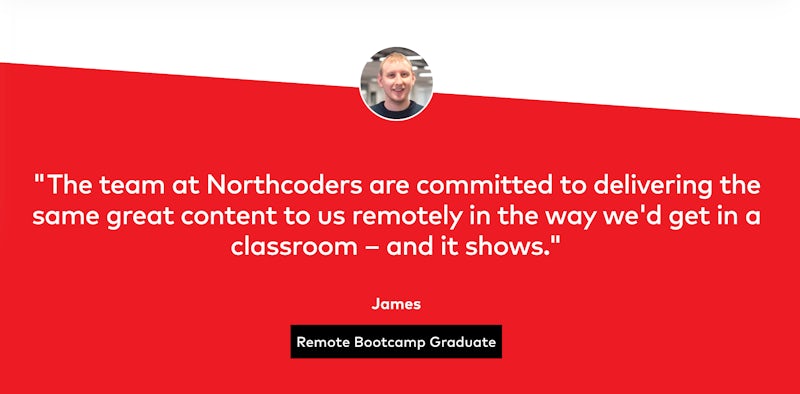 One of the toughest parts was helping people find work. We poured all of our energy into finding opportunities for people, even repurposing members of other teams to help. From April through to July, it means people could expect much longer waits to find work. Most people could expect to search for 2-4 months – more than double what it used to be.
Fortunately, the market picked up again at the end of the Summer. 
The tech industry had proven itself robust, and became a "sector to watch", with news outlets reporting on the merits of starting tech careers. The time it took to find people work came back down.
Remote coding bootcamps
Once we'd become confident we'd nailed the remote approach to delivering what feels like an in-person experience, we launched a permanent remote option for our coding bootcamp.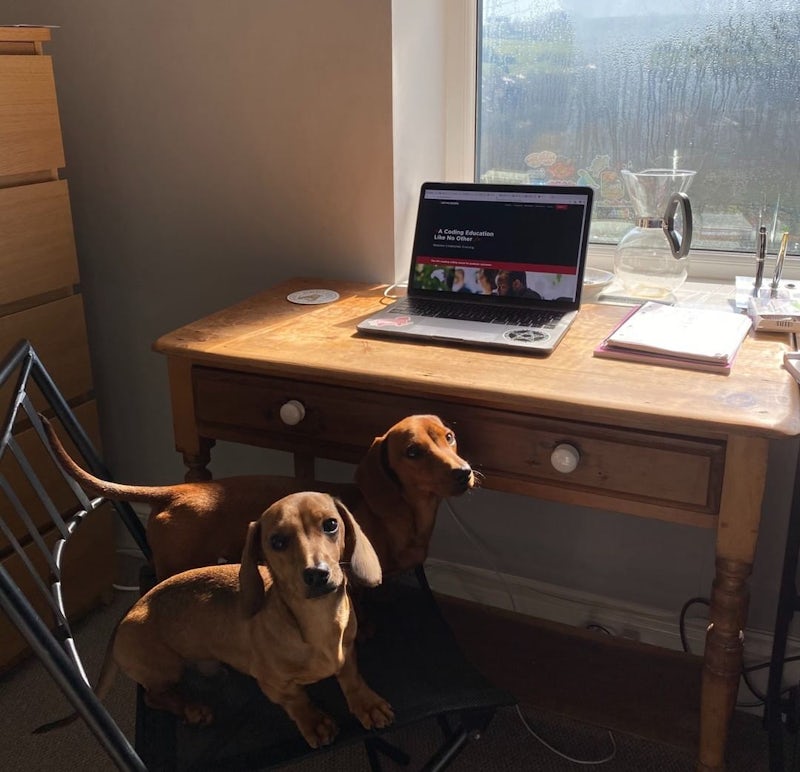 Doing things from home have their perks
Live code-sharing, interactive lectures and one-to-one time with mentors and peers via video made this possible – and it's meant we've been able to accommodate so many people who otherwise wouldn't have been able to come to us. 
Black Lives (Still) Matter
Northcoders is a company, but we're made up of individuals. And I know I speak for my colleagues when I say that social justice matters deeply to the team. I couldn't be more proud of the way we responded to the #BlackLivesMatter protests after the murder of George Floyd.
From emailing over 500 partners in business calling for action to encouraging our people to educate themselves and sharing resources with others, we hope we amplified black voices. The team even raised over £2000 for #BlackLivesMatter in July. 
We continue to ask our community to acknowledge privilege, listen and learn from black people without asking for emotional labour, to share what we learn with others and talk about race even when it's difficult and to donate if we can.
We believe that no matter who you are, where you're from, who you love or who you worship, you should be welcomed. We stand with #BlackLivesMatter, affirm all gender identities and sexualities and support people living with disabilities and neurodiversities.

When you become a Northcoder, you pledge not to tolerate discrimination, and become part of a wider mission to do our bit to contribute towards equality.
Antiracism is an active pursuit. We know we have so much more left to do, but make no mistake, we will hold each other accountable.
Our Upskilling Programme
Hiring and training devs can be hard. We wanted to make it easy.
So we're leveraging the Level 4 Software Developer Apprenticeship and apprenticeship funding to help hiring managers onboard people seamlessly and fast-track their progression to mid-level and senior positions. The programme is over 13 months, and is choca with masterclasses in both languages and engineering topics. I actually decided to go along to a couple on AWS cloud earlier this year and I have to say, while they were challenging, they were great fun..!
This is particularly awesome because almost all businesses can get funding to cover at least 95% of the cost of training. In many cases, that's 100%. 
So that's 13 months of training, 95% funded. You can find out about the juicy bits here.
Deferred payment for our bootcamps
Making Northcoders as accessible as possible from people from all walks of life is close to my heart. So I loved launching our interest-free Deferred payment option this Autumn, open to all UK citizens.
Basically, using this option means that you can pay back your course fees over 24 months, interest-free, instead of upfront.
But if you do want to pay upfront, you can use our Advance payment option and pay a little less.
My hope is that these choices will help more people than ever access Northcoders.
Gender Diversity Fund
...And there's more. Women and people belonging to gender minorities can now claim up to £500 from our Gender Diversity Fund to contribute towards the cost of their 13-week bootcamp fees.
You might belong to a gender minority if you are intersex, have non-binary gender, are transgender or have transgender history.
Northcoders provides a welcoming space for all, and supports and celebrates people from all gender identities.
You might be an 18-year-old with a passion for tech, a middle-aged middle manager looking for a new start, or someone coming back to work after raising a family. Equally, you might be a newcomer to the UK or perhaps someone with an evolving gender identity. Whoever you are, and wherever you come from, you will be treated with kindness, respect and acceptance at Northcoders.
The New Northcoders
You might have noticed we've been looking a bit different recently…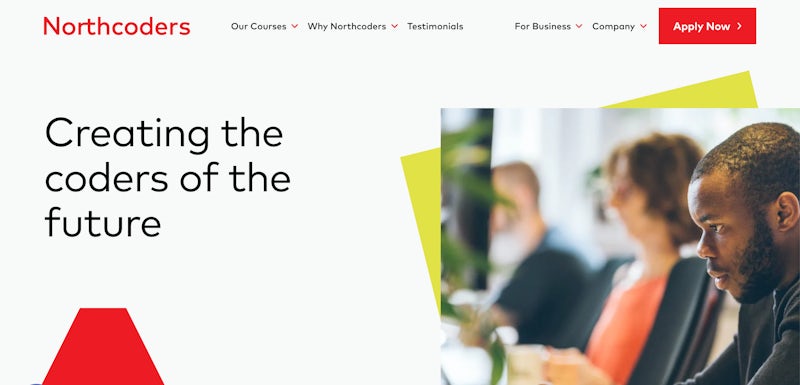 Our new look has been my life for many months now, so I hope you like it as much as I do!
Of course, it's not just about the new look. It's also, perhaps more importantly, about how we're evolving under the surface. The way we're growing. Our ambitions for tomorrow. 
One thing that hasn't changed is our heart. Our values make us who we are. We hold ourselves to high standards, and want the wider world to do the same. We will continue to fight for social justice, champion inclusion, expect excellence from ourselves, make learning and growing part of our culture and put people before profit. Even when those things aren't always the easiest way.
NC Tech Talks
This was very much a year to connect as humans. So this year, we begun our very own podcast, NC Tech Talks.
NC Tech Talks is aimed at techies, and those aspiring to start a career in tech. We were joined for our very first podcast, hosted by our own Ian Ranasinghe, by Liam Bateman, Co-founder and CTO of Silverchip, an award-winning mobile app development agency in Manchester. He was inspired by Marcus Rashford's recent #freeschoolmeals campaign to create a directory of places providing free meals for children, and talked us through his fascinating journey.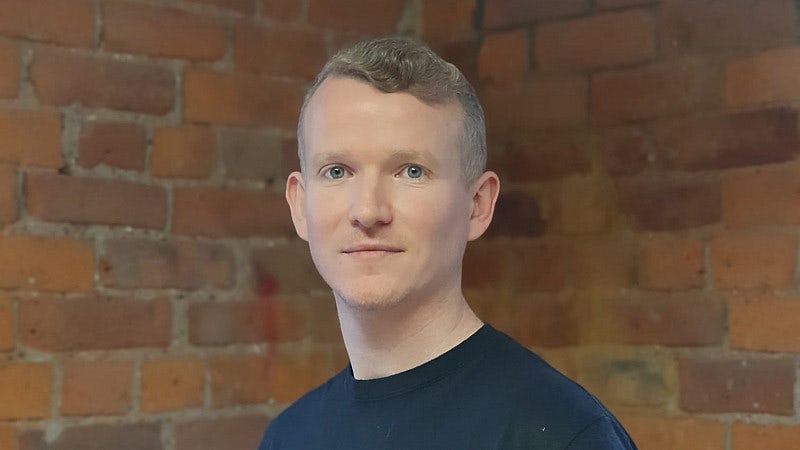 You can find our podcast here, where you can also find our upcoming events or watch past events on-demand. You can also find NC Tech Talks on Spotify, Google Podcasts and most major podcast libraries.
Rounding Up
We have every reason to be optimistic. Yes, things have changed – but so have we, and in many ways 2020 gave us the space we needed to set the wheels in motion for much bigger change in the future.
Northcoders was able to face 2020 without making a single member of the team redundant (in fact, we grew our team, and even gave jobs back to a couple of people who had recently left us before the pandemic!) and I must give credit to our wonderful Board who led us through this unpredictable year with an unshaken moral resolve to look after its people.
Likewise, we should celebrate our extraordinary team members, who have faced this year with a steely resolve to get out of the other side stronger than we came into it, and without whom, there would be no Northcoders now.
And to our community, who have banded together and supported each other in a way we could never have imagined – thank you.
I cannot wait to show you what is coming in 2021..!
In the meantime, stay safe, look after one another and I wish you a restful festive period.