Recruitment and Hiring
All The Things We Do to Help Students Find Work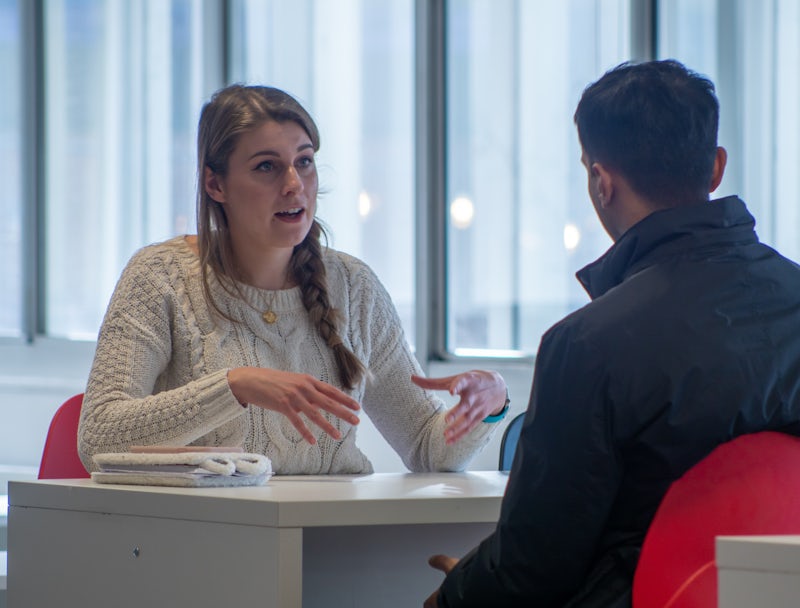 Our coding bootcamps aren't just courses, they're the first step in a new career path for our students which is why it is so important to us to make sure that once you graduate, you not only have the coding skills for your new career but also all the tools you will need to land a rewarding and fulfilling job in the tech industry.
We have an entire team of people – our Partnerships Team – dedicated to helping you find the right career, not just your first role. And while we don't guarantee you a job, when it comes to helping you find employment, we've got your back.
Careers Week 
Careers Week takes place on Week 8 of our bootcamps. It is made up of eight sessions covering everything from industry insights, tech tests, personal branding, CV and interview workshops. Each of these sessions is designed to help you find employment by covering a specific area. To make sure we're giving you the best advice possible, all of our Careers Week sessions have been written with input from people with technology hiring experience. 
Full list of Careers Week sessions:
Industry Insights: The Tech Scene
Building a Portfolio
Your Personal Brand
CV and Cover Letter Workshop
Tech Tests
Proactive Searching
Interview Workshop
Positioning Yourself for Success
While Careers Week is only one part of the continued support we offer to help our students find work, it is an important part of the bootcamp as it ensures that everyone has the best possible chance of finding a role once they graduate - or even beforehand in some cases. 
Working with Hiring Partners 
We work with an ever-growing network of hiring partners that currently includes over 150 companies that trust us and hire our graduates. Whilst this doesn't mean that we can guarantee you a job, it does mean that we can introduce you to a number of companies who already understand the training you've undergone and the value you can bring.  
Unlike recruitment companies, which receive a fee for every candidate they place, there is no financial gain for us in placing you in any role. This means our Partnerships Team focuses on finding you the perfect job in tech. Because we've got such strong relationships with our partners, we know them inside out – what they are really looking for and which of our graduates would be best suited to meet their needs, and their company culture. For you, that means a far greater chance of making the right career decision, the first time. 
Why do so many companies choose Northcoders graduates? That's easy. Standards. You've passed an entry challenge and proven you are qualified for the role once you graduate. We make sure that you have all the soft skills needed for the business world, not just the technical skills necessary for the role. It also helps that many of our students are career changers, which means that they already have years of practical experience in the professional world. Our course is structured to reflect the realities of work as closely as possible, which means that you will undertake a mix of team and independent projects. The benefit of this is that once you graduate, you will have all the soft skills necessary to adapt to the mix of remote working and team projects that are commonplace in the tech world.
Northcoders Jobs Board
Another way that we help our students find work is through our internal jobs board, which is available to all Northcoders until they find work. This means that you can apply through us and get your CV and portfolio in front of the right people at the organisations you're interested in, as well as benefiting from our inside knowledge.
For obvious reasons, this year we have expanded where we help our graduates find their first role in tech beyond the north, to reflect not only the wider area that our students join us from but also the ever-increasing number of remote opportunities available to them. 
To find the best fit for each role we advertise on our jobs board, once you apply, we carry out screening calls and tech tests to help our hiring partners choose the most suitable candidate. For our graduates, when it comes to applying for roles, we'll be here to support you every step of the way. You'll be able to use everything you learned during Careers Week and lean on our team for help any time you need it.
Progressing in Your Career (with our Upskilling Programme)
We're not just here to help Northcoders find their first job. We're here to help you throughout your tech career, from starting out to progressing in your role.
Our 13-month Upskilling programmes for businesses incentivise organisations to hire our graduates by helping them onboard you seamlessly into their organisation, with our help. The programmes also help businesses fast-track your progression to mid-level and senior developer through a series of Masterclasses and certifications.
Funding to cover at least 95% of the cost of the Upskilling programme is available to most businesses, which means it's very accessible.
Because we offer this, you've got a stronger chance of getting hired, and the potential to join our Upskilling programmes, if your employer agrees.
If you're interested in joining us, find out more about our remote courses here.