General
Coding Lessons at The Juice Academy with Northcoders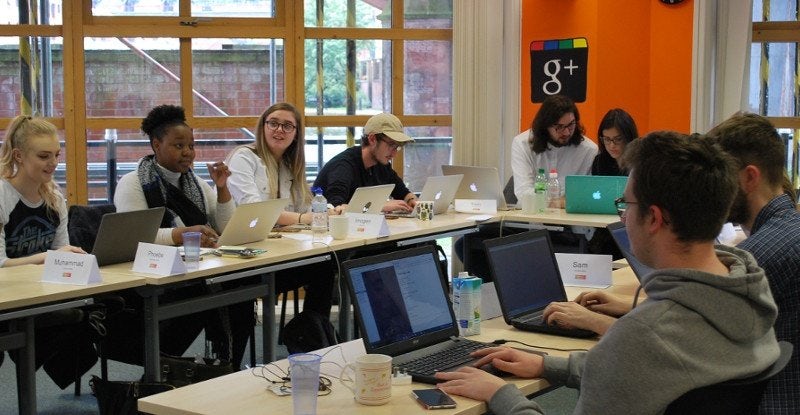 Over the past month or so we've been sending our tutor Daryl and Northcoder in Residence Adie over to The Juice Academy in Castlefield where they have been training a group of young digital marketers in the art of code. The Juice Academy was set up by Sandy Lindsay of Tangerine PR and offers Digital Marketing apprenticeships to young people, including our very own young person Sam who is a Growth Apprentice at Northcoders!
So what do Daryl and Sam think about it?
<Daryl />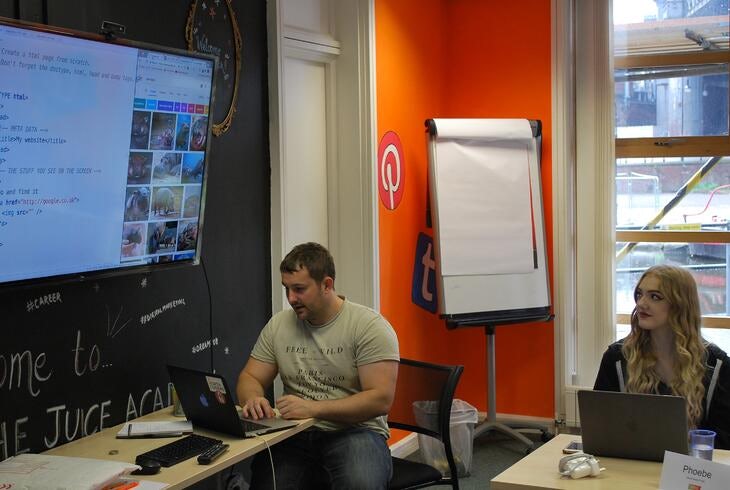 "The experience with Juice has a been an amazing one. Although all of the students were clearly text savvy, most had never touched any HTML, CSS or JavaScript before. To go from nothing to being able to use HTML and CSS to make basic sites has taken a lot of hard-work and determination from everyone there.
"One of the best things about these sessions has been the sense of humour everyone has brought. Elements of learning to code can be quite technical which can bog people down at first but everyone has been really light-hearted and tried to face everything with a smile.
"From a tutor's perspective, it's been a really interesting experience as there was so much content which we wanted to deliver but in a context that would be relevant for a digital marketing apprentice. We tried to focus on the skills that would allow them to quickly make an impact in their respective organisations, to be able to an solid understanding of the main principles in web development and to give them a vocabulary and knowledge base to be able to effectively communicate their ideas.
"I know everyone there will certainly go on to do great things and it's been a pleasure to get to know them all!"
<Sam />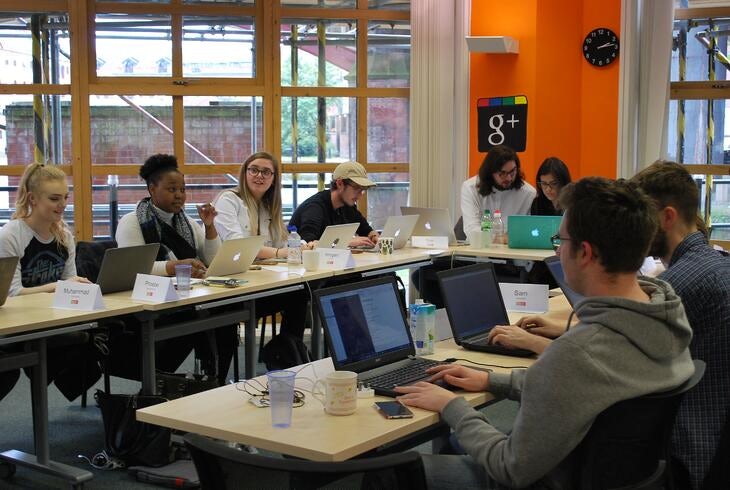 "The coding lessons are really enjoyable, I did do a small amount of coding as part of my course at university but it hadn't dawned on me how much I'd forgotten since finishing uni when I started.

"It's great to receive such comprehensive and in-depth lessons in the subject, going in depth with all of the different types of tags and functions. With recaps every week I certainly feel a lot more confident in my ability to code.
"Being able to receive instant feedback and support from Daryl and Adie while we learn is also really helpful, Sometimes when learning code it can be so difficult when you reach roadblocks so having someone that can point you in the right direction is so beneficial."
We're very proud to be able to partner with a company that has the same inherent goal of filling the massive digital skills gap in the North-West and hope to be able to partner on more projects in the future!
Want to build a career in Digital Marketing? Find out about the Juice Academy here.
Could learning to code change your life? Learn about Northcoders Coding Bootcamps here.