General
Everything You Need to Know about Applying to Northcoders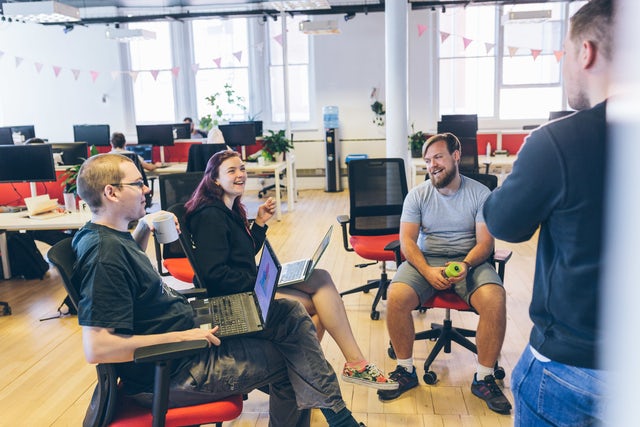 Want to learn to code with Northcoders? In this post we'll cover all the essentials, including how to apply for our full-time coding bootcamps in Leeds and Manchester, information about the help we offer to cover tuition fees and living costs, and an overview of our entry requirements.
How do I apply for Northcoders?
So, you've done your research, checked out all the coding courses in your area and decided that Northcoders is the right choice for you. Brilliant. Now that can leave only one thing: it's time to apply and secure your place.
The Northcoders application process is divided into six steps:
1. Apply online
The first step is to complete our online application form. Don't worry, you won't have to answer a million questions. We just want to get to know you, find out about any prior coding experience you might have (you don't need any!) and hear about why you think Northcoders is the right learning environment for you.
2. Get to grips with coding
Next, you'll be invited to complete the Northcoders Entry Challenge. This is when the real fun begins...
We'll send you full instructions on how to get ready for the Entry Challenge, including a range of learning resources tailored to your level of experience. These learning materials will include videos and coding challenges.
You'll need to work through all of the challenges and complete all of the steps – including signing up to freeCodeCamp and CodeWars – before you take the Entry Challenge.
How long will this step take? 10-20 hours, depending on your experience.
3. Complete the Northcoders Entry Challenge
The Northcoders Entry Challenge is made up of four short coding challenges. It's designed to be fun, relaxed, and is also a great opportunity to have your questions answered.
You'll complete the Northcoders Entry Challenge with the support of one of our tutors. The coding challenges are based on the learning resources outlined in step 2, so it's really important that you spend time working through them before you come in for your Entry Challenge.
4. Secure your place
If you show a solid understanding of core programming concepts in your Entry Challenge, you will be offered a place at Northcoders. Once you've secured your place and start date, it's time to get started on something even more exciting...
5. Work through the Precourse
The Precourse is when you'll dive deeper into programming and start to take on more advanced coding challenges. You'll gain confidence with the basics of coding and look at some easy-to-learn tools that you'll use throughout the course.
It's really important to remember that you must complete Precourse at least 2-3 weeks before your first day at Northcoders, so you'll hit the ground running from day one.
How long will this step take? 30-50 hours, depending on experience.
6. Your first day
Application submitted? Check.
Entry Challenge conquered? Check.
Precourse mastered? Check.
It's time for your first day at Northcoders! 
How much is Northcoders? Is there a finance scheme?
The cost of our full-time coding bootcamp is £6,000. This includes (take a deep breath) all tuition fees, daily lectures, mentor support throughout the course, extensive careers support from our in-house careers team, informal socials where you'll get to know your fellow students, Lightning Talks by past graduates, and regular presentations from our hiring partners. Not to mention heaps of fresh fruit and unlimited tea and coffee. Phew!
And the best bit? You won't need to pay a penny until you have passed the Entry Challenge. Why? We want you to be sure Northcoders is the right choice for you, and we believe the best way to do that is to give you the chance to get to grips with code before enrolling.
To secure your chosen start date, a non-refundable deposit of £600 is payable once you have completed the Entry Challenge and have been offered a place on the course. If you sit the Entry Challenge and decide that Northcoders is not for you, that's ok – you won't be charged anything. 
Will you need help covering your tuition fees or living costs? We've partnered with Future Finance who provide flexible loans for students. Terms and conditions apply. You can get a quote and be conditionally approved for a loan up to three months in advance of your chosen start date – even if you do not yet have a confirmed offer from Northcoders and even if you have not yet applied for our course.
What are the entry requirements for Northcoders?
We don't have any formal entry requirements. That's right. Zilch. Zero. You don't need a degree, A-levels or GCSEs to study at Northcoders.
All we ask is that you demonstrate your passion for entering the tech industry. You don't need any technical background or knowledge – if you are a beginner, we'll help you get started (for free) when you apply and support you until you feel confident to attempt the Entry Challenge. We even offer free drop-in sessions at our sites in Manchester and Leeds for applicants who would like a little extra support preparing for the Entry Challenge.
Kick-start your career in tech
Ready to apply for Northcoders? Submitting your application is easy. Just head over to our online application form to get started or email [email protected] for more information.