Bootcamp Life
Alexandra's Story – From Theatre Maker to Software Maker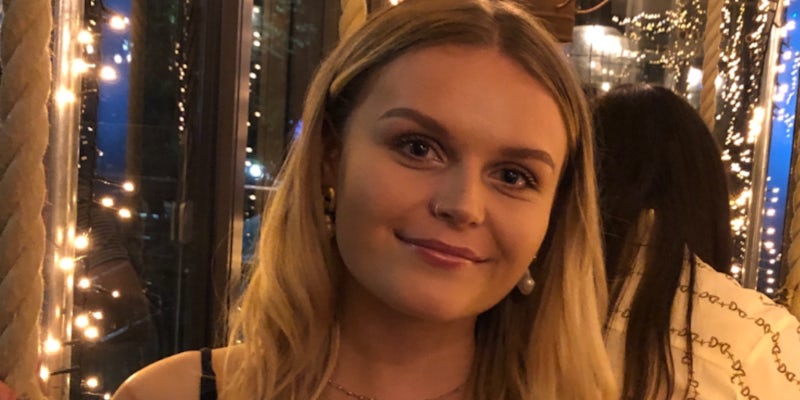 Alexandra is a current student at Northcoders as of October 2020. She's currently on Week 8 of our coding bootcamp.
***
If anyone had told me at the start of this year that, come October, I would be trying to perfect an online portfolio displaying various coding projects I'd made over the previous weeks, I would have sworn they'd mistaken me for someone else. I had never touched code before in my life — let alone heard of concepts like JavaScript, React, HTML, and CSS (just to name a few).
Yet here I am, halfway through an intensive 14-week software development course at Northcoders, a multi-award-winning coding bootcamp based in Manchester and Leeds.
So how did I get here?
After graduating from The University of Sheffield last July with a degree in English Literature and Theatre Studies, I was excited to see what the world of theatre had to offer a fresh graduate like me. The answer? To put it bluntly, not very much. I had decided to dedicate a year to trying to build a connection of contacts and gain as much work experience as possible in an industry famous for being about "who you know."
I was pretty successful considering I was based in Sheffield at the time — a city that doesn't have the largest theatre scene — and managed to get a job in the Box Office at Sheffield Theatres: a complex comprised of the Crucible, the Lyceum, and the Crucible Studio. Here, I was able to network more successfully, arranging various meetups with theatre makers and attending work experience within different sectors of the industry, including stage management and light/sound design.
I loved seeing how this world worked and I thoroughly enjoyed being a part of that theatre buzz… but something just felt off. It didn't seem like enough for me. I needed something more rewarding, something more stable and secure, and something that wouldn't crumble under, I don't know, a global pandemic?
I started to realise that if I carried on down this path, I would end up hating something I once loved and so I started to think about other options. That's where code came in.
I had never considered a career in software development or anything regarding tech for that matter. This was down to ignorance more than anything. As my dad always says, "You don't know what you don't know." And this was true! I barely knew what was out there in terms of job prospects, but I'd always assumed that for a career in software development, you'd have to have a degree in Computer Science and have been studying code for years. It was only when I spoke to a friend of mine that I realised this definitely wasn't the case. They themselves had enrolled in Northcoders after graduating university with a degree in Music and told me that code was the perfect way to combine a love for creativity with logic, structure, and problem-solving.
This sounded perfect for someone like me, so I did some research into the company and was surprised (but definitely relieved) to see that they believed anyone could learn to code! Their alumni included people from a range of backgrounds, from shop assistants to accountants, baristas to teachers. The idea that even an English and theatre grad with no tech experience could also embark on this path was beginning to look more promising.
Northcoders come from all walks of life, and we celebrate the diversity of our graduates. But there's something unique that brings us all together: people committed to changing their lives by coming together and learning.
After applying to the coding bootcamp and teaching myself the basics of JavaScript over a month or two, I took my entry challenge and amazingly passed the first time. This in itself was hugely rewarding for me, as it was the solid proof I needed that I could really do this. I was so proud of myself, and as soon as I knew I was up to scratch for the course, I couldn't wait to get stuck in.
When I finally started on the course, however, the imposter syndrome kicked in. For the first couple of weeks, I was constantly comparing myself to others and their abilities. We had all come from such different backgrounds — some with lots of tech experience and others not, but either way, I kept feeling like I was trailing behind and I started asking myself if I was really cut out for this. Thankfully, I managed to beat this paranoia, as that is exactly what it was: fearing something that my mind had completely made up. The mentors were great and assured me that the course was not a competition. Yes, we had all come from different backgrounds, but we had all still ended up on the course and we'd be finishing at the same level. This is what mattered.
Of course, I still find myself getting insecure with my abilities from time to time, but it's important I always keep their advice in mind. It's a marathon — not a sprint. And besides, the tech sprints are getting easier by the day…
I am now halfway through my time at Northcoders after completing the Fundamentals and Back End sections of the course. It's been a challenging and intense few weeks, but also the most rewarding and enjoyable. I have met some lovely people and built things with code that I didn't think I could — and I still have so much more to learn! Next week, we start Front End, which I'm really looking forward to, as this seems to bring in the design elements of software. Then it's on to our final project.
I can't believe how fast the time has flown by since starting the course, but that's also proof that I'm having fun. Overall, I have a passion for making things, whether that be a play or an API. If I can start with nothing and come out with something that is both beautiful and functional after lots of hard work and dedication, then I'll have achieved something in my eyes.
My love for creating that was born through theatre has not been diminished but indeed enhanced by embarking on this path into software development. If I was able to one day merge these two industries by creating software for the arts, then that would be the dream!
If there is anything I want people to take from this, it is that anyone can learn to code. Whether you are like me and just starting out or you are craving a career change, it's never too late. I'm so happy I made the jump and I can't wait to see what lies ahead.
***
Hiring? Alexandra, and other Northcoders students across England, are graduating soon. Be the first to meet them (even if virtually!) by getting in touch with us here. And yes – it's fee-free to hire our graduates, always.