Recruitment and Hiring
How A Teaching Model Is Revolutionising Coding Education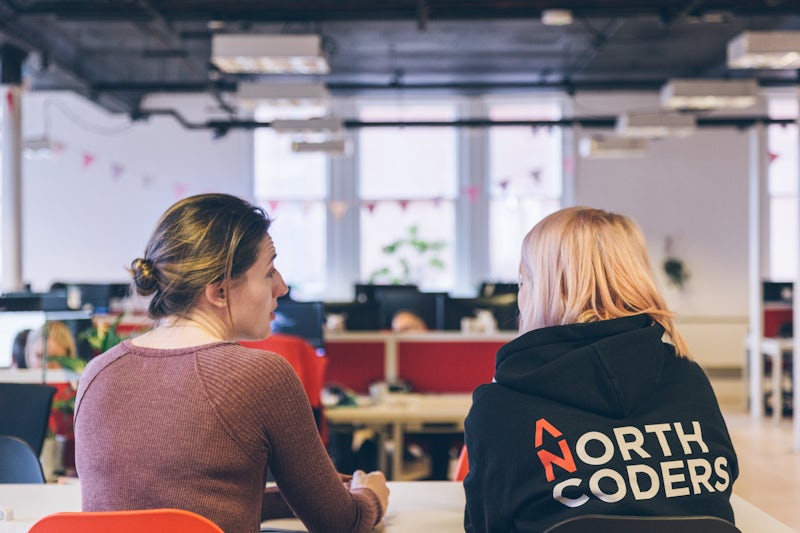 From Northcoders Co-Founder, James Brooke
In less than a fortnight from now, the first graduates to go through The Developer Pathway will be presenting their final projects. To say I'm excited about things is the ultimate understatement.
We're convinced, having now been doing this for 10 weeks, that our Developer Pathway is going to produce another step change in the calibre of graduates coming out of Northcoders.
The Developer Pathway divides 12 weeks of development topics into six 2-week blocks. If a student is ready, they will move on to the next block. But where we're unique is that if they need more time to consolidate their skills, they can repeat the block immediately with bespoke support.
Many of the benefits we expected from this new way of doing things are materialising. Here are just a few of them:
Fortnightly Course Updates
Every single part of our curriculum is being iterated and improved on every 2 weeks. We get feedback from students - in person, via feedback forms and through the code they're writing - that immediately feeds back into improvements.
Filling The Gaps
Because the course is divided up into blocks, members of our team running later blocks are feeding back to members of our team running earlier blocks where they see gaps in knowledge across a cohort that they weren't expecting. That drives improvements further upstream that allow us to go deeper into concepts further downstream.
Comprehensive Understanding
When students are asked to resit a block, we are universally getting feedback that the opportunity to cover the content again a second time is allowing them to really get to grips with it. Students are moving through the course with a real grasp of difficult concepts.
Positive Influence
We've found that students that redo a block are a positive influence on those doing it for a first time.
Community Spirit & Support
Students on a block have access to the collective knowledge, understanding and support of the students on blocks ahead of them - each of whom have passed the previous blocks and are sources of help and inspiration.
Immediate Curriculum Changes
Feedback from our hiring partners is feeding back into the curriculum almost immediately
These are just some of the things we're learning and the others are going to continue to drive innovation at Northcoders. I once Tweeted that we run Northcoders like a tech company. It was the realisation that we are in the business of continuous deployment of coders (as opposed to code) that inspired the changes we've made recently. 
I'm already incredibly proud of what my team and our students are achieving. If we were a university, we'd rank third for graduate outcomes according to the Good Education Guide 2018. But we're only going to get better and better. Every member of our team is committed to creating an experience that is a defining few months in the lives of our students, and that produces graduates who are technically very strong, who have a level of self-sufficiency that consistently surprises the companies we work with, and who think innovatively. 
We've just had the Head of Operations of a large UK corporation come in and say that whilst he'd heard great things about us from the CIO of his last company, he hadn't quite fathomed the energy of the place, nor the fact that we are a pipeline of talent. Well we are. Be in no doubt, from Friday 27th April Northcoders is going to graduate consistently great talent on a fortnightly basis. 
If you're concerned about where your business is going to get its developer talent from (let's face it -we really should be!), and you haven't come and seen what we're doing here, I firmly believe you're missing out. Even if it turned out we're not the right fit for you at this time, you'd at least get a snapshot of Northcoders in time, and when you visit us again sometime in the future you'd see just how quickly we're learning and evolving.
If you're not already, I'm going to suggest it's time to engage with a business that from day 1 has had this region's potential at heart, a plan to scale such that you aren't competing for scarce talent but collaborating to attract it into our industry, and a vision for how to inspire the next generation of great minds to fulfil their potential with the tools that our industry has to offer.
Discover what it means to become part of the Northcoders Community here.