Recruitment and Hiring
How to Fund Training using the Apprenticeship Levy (even if you don't pay into it)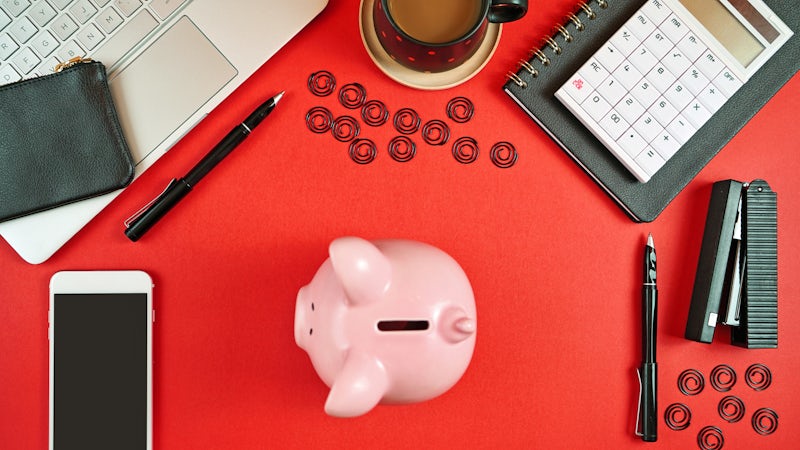 Whether you're looking to take on a new employee or upskill a current one, investing in training is crucial for building a skilled tech team. But getting the funds to pay for the high-quality training you need can be confusing, especially if finances are tight post-COVID.
In April 2017, the UK government introduced the apprenticeship levy, a funding pot that businesses can pay into to help train apprentices.
Apprenticeship training is no longer tailored for entry-level or school leaver employees. The levy gives companies the option to invest in employing new people with a bespoke skillset or upskill their current employees to help future proof their business. Effectively, apprenticeship training helps to lift employment rates, close the skills-gap and boost the UK economy, through highly intensive training and a qualification at the end.
The beauty of the levy is that even if your business isn't paying into it, you can access the funds through co-investment or levy transfer options.
Since we started offering our DevAccelerator programme to help businesses invest in their junior developers' progression, we've been talking to our Hiring Partners about how they can leverage the levy to pay for apprenticeship training. Here's what you need to know if you want to take advantage of this funding opportunity.
What is the apprenticeship levy?
The apprenticeship levy is designed to create sustainable funding for apprenticeships and to give employers more control to provide their employees with a range of training opportunities. There are three different ways your business can access the funds available –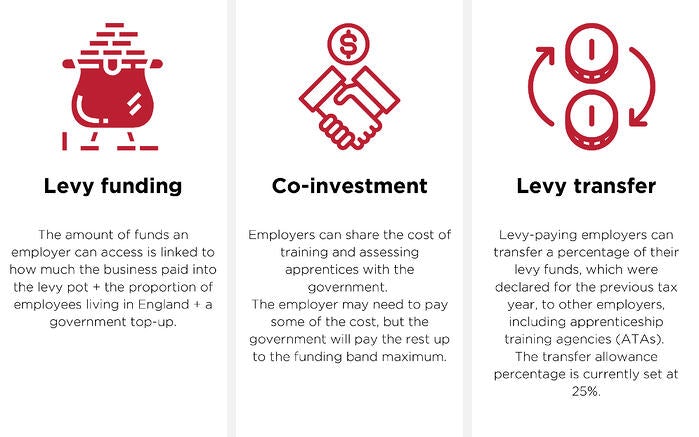 The funding is available for lots of different types of businesses no matter how big or small, and although only 2% of employers pay the apprenticeship levy, this funding helped directly support almost 50% of all apprenticeships in 2017/18.
No levy? No problem?
You don't need to pay into the apprenticeship levy to use it. Funding is available for organisations of any size via co-investment or levy transfer.
The cost of apprenticeship training can be split between the employer and the government through co-investment. This allows any business who contributed towards levy funding to use significant government funding to support their commitment to apprenticeships.
Find out all the key facts about co-investment through the gov.uk website.
Levy transfer is available to businesses regardless of their location, however Northcoders can also help businesses in the North West to fund DevAccelerator through levy transfer, covering all of the costs for all of your participants you would like to put on this programme.
In Leeds, the city council levy funds available to transfer to priority skills, including careers in the digital sector.
We also work with the Greater Manchester Combined Authority (GMCA) and their Levy Matchmaking Service to arrange funding for places on DevAccelerator.
Why should people use the apprenticeship levy to train apprentices?
The stats don't lie – The latest figures show that since the levy was introduced in April 2017, it has directly supported 312,900 people to start their apprenticeship journey.
Employee retention – 90% of apprentices stay on in their place of work after completing an apprenticeship
Bespoke training – You and your training provider can adapt the training programme your apprentice receives according to the needs of your organisation.
Expiring funds – If a levy-paying business does not use levy funds within 24 months of them entering your account, they'll expire. Expiring funds will be used to help small businesses pay for apprenticeship training through co-investment.
Businesses that offer apprenticeships view them as beneficial to their long-term success. Hiring an apprentice is a productive and effective way for any business to grow talent and develop a motivated, skilled and qualified workforce. As the economy recovers from the coronavirus (COVID-19) outbreak, apprenticeships will be more important than ever in helping businesses to recruit the right people, and develop the skills they need to respond to conditions and grow – both now and in the long-term. Therefore, our policy is designed to support and protect current apprentices and to help employers maintain or rebuild the pipeline of new apprenticeship starts.
How do businesses access apprenticeship levy funds?
You can use your apprenticeship service account to manage your funds, receive a transfer of apprenticeship funds where eligible and reserve apprenticeship funding if you don't already pay into the levy.
Leverage the Levy to upskill your junior developers
We've combined our expertise in delivering training programmes with a Level 4 Software Development Apprenticeship to create DevAccelerator. This is a training programme to provide your teams of junior developers with the support they need to become confident mid-level developers, funded by the apprenticeship levy. Find out more on our website.