Tech Education
Inside our new Web Development: Remote course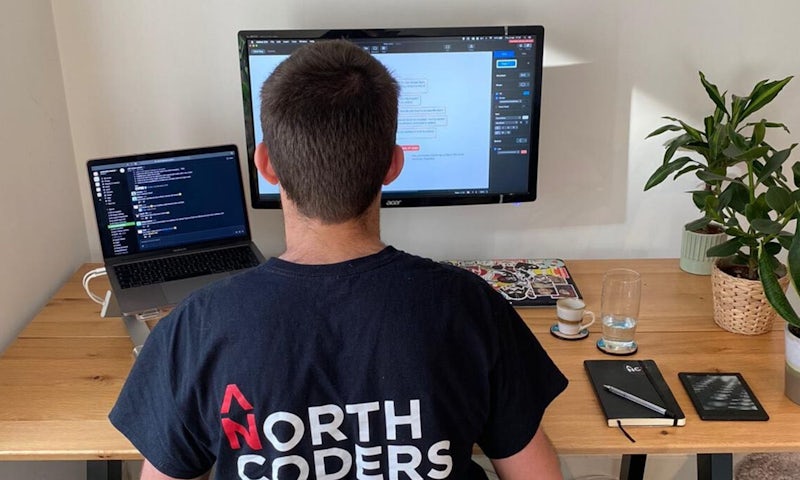 Our remote, online Web Development course is purpose built for learning to build complex websites without leaving your home.
But it's nothing like following your average online course, so I wanted to write this post to help you understand what the course is like. 
So, what is this?
In a nutshell, it's an eight-week course which will teach you to build websites properly.
It's online, but it's delivered as though it was in-person – so you'll be able to get support via video, voice or screenshare at the drop of the hat throughout the day, "go" to interactive lectures, interact with your peers and have check-ins with tutors and your mentor.
By the end, you'll have the skills you need to build complex websites, and you'll be able to prove it, too. You'll have built a fantastic portfolio showcasing an array of important "front end" development skills, and be in a great position to start a new career as a web developer or front end developer, or develop your existing career.
What's an average day like?
Let's take taking a look at the daily routine!
08:30am: Morning tasks / kata hour – You'll have an hour to get into the day, sip some coffee and solve a short coding challenge to sharpen up your skills. The so-called "katas" develop your problem-solving skills (crucial for serious web developers!), hone core JavaScript knowledge (the language of the web) and wake you up!
09.30am: Lectures are live-streamed interactively to you. There is plenty of opportunity to ask questions to each other and the tutor in real-time. We won't usually be delivering content constantly throughout this time - instead we'll try and find points to pause, let you do some coding, formulate questions, and then we'll pick back up on the live-stream the next part of the lecture, answering any of your questions.
Tutor Tom going through optimistic rendering in the "Building Complex Websites" block
11am: Working on a project - You'll work on a practical project based on your lecture which builds on your previous knowledge – perhaps it's something you'll put in your portfolio! Stuck? No problem! Just request some tutor time, and somebody will be with you in a matter of minutes, perhaps through a video link, voice call and/or code live-sharing sessions. You can also use our collaboration platforms to call and live-share with your peers. We check in with all participants regularly, just like we would if you were on campus.
1pm: Lunch! Take an hour to have a break and re-energise!
4pm: Round-up – Every day we have an end-of-day "debrief" session where you can ask questions about the project and we will run a recap. This is conference-call-esque so everyone can contribute.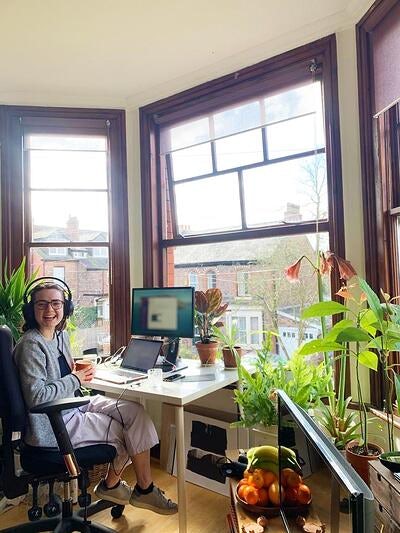 Tutor Izzi at teaching from home with her plant collection!
Outside of the structured learning, we've set up a fantastic online community, which currently has people talking about everything from cute dog pictures to what crafts they're working on, over text, voice and video! This has really helped us to keep the campus atmosphere alive, we're learning a lot more about all the wonderful personalities at Northcoders the more we talk to each other.
Got questions? We're here for you! Call us on 0333 050 4368, or contact us here.
We hope to welcome you to Web Development: Remote soon!