Recruitment and Hiring
Leverage the Apprenticeship Levy - Elevate your tech team with DevAccelerator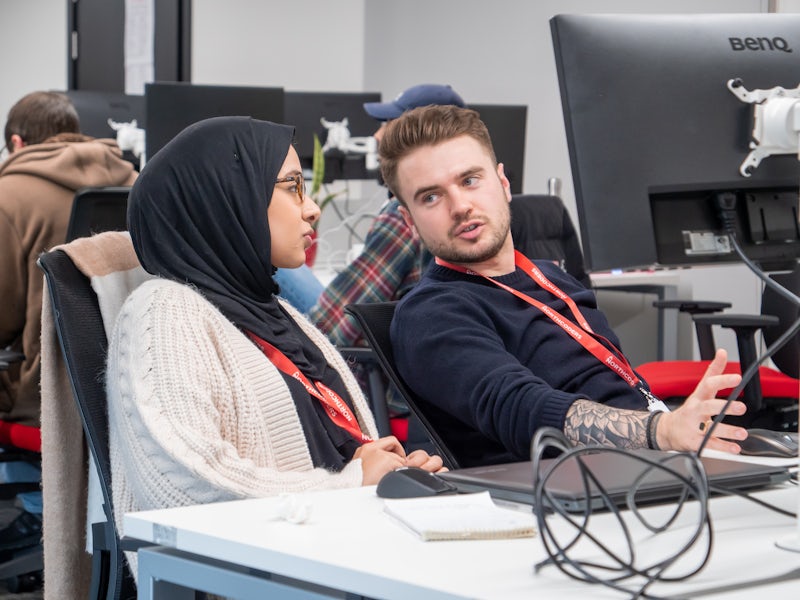 The DevAccelerator is a game-changing new training programme to provide your teams of junior developers with the support they need to become confident mid-level developers. We've combined our expertise in delivering training programmes, such as DevLabs and the Developer Pathway, with a Level 4 Software Development Apprenticeship. 
You can fund the DevAccelerator with the apprenticeship levy and/or government co-investment, providing unmatched value to both SMEs and larger organisations like yours.
What is the DevAccelerator?
DevAccelerator is a 12-month training programme for junior software engineers. We work with you to offer a curriculum bespoke to your business to accelerate the training of your junior developers to mid-level and senior developers. Our bespoke programme is delivered through our industry-led DevLabs professional development courses, breaking the content into a series of sessions focusing on specific areas of development. These are scheduled around your organisation's requirements, meaning this training does not impact your team's productivity.
How we've designed it to work for you
We've worked extensively with industry experts to deliver you a programme which will allow you to: 
> train engineers who are confident with your tech stack 
> free up your senior engineers' time from training juniors 
> retain ambitious junior engineers who are looking for progression 
> offer cost-effective, time-effective training

How can we take part?
You can either: 
> Hire Northcoders who are due to graduate from our coding bootcamp, the Developer Pathway 
> Enrol your existing employees on the DevAccelerator. If they can't code yet we may ask they complete the Developer Pathway (coding bootcamp) first.
We'll work with you to coordinate the start dates of your team of engineers and choose a language pack matched to your tech stack. 
Your junior engineers will: 
> follow structured training and support delivered in your tech stack 
> receive mentorship by expert Northcoders tutors with industry experience 
> achieve career progression without having to move companies 
> have their achievements recognised with industry-leading training and professional certifications.
The DevAccelerator includes: 
> Two Northcoders DevLabs courses: Each course consists of five stand-alone day sessions and off-site work to accompany this. 
> Level 4 Certificate in Software Development Methodologies 
> A vendor certification: By default, we'll teach the Microsoft MCP - HTML5 with JavaScript and CSS3, but you can choose more relevant certification.
In addition, Northcoders will work with you to build a language pack to either: 
> Help your engineers integrate into your organisation 
> Learn a new stack they can then train other members of your team in.