Recruitment and Hiring
On The Beach Software Engineering Academy partners with Northcoders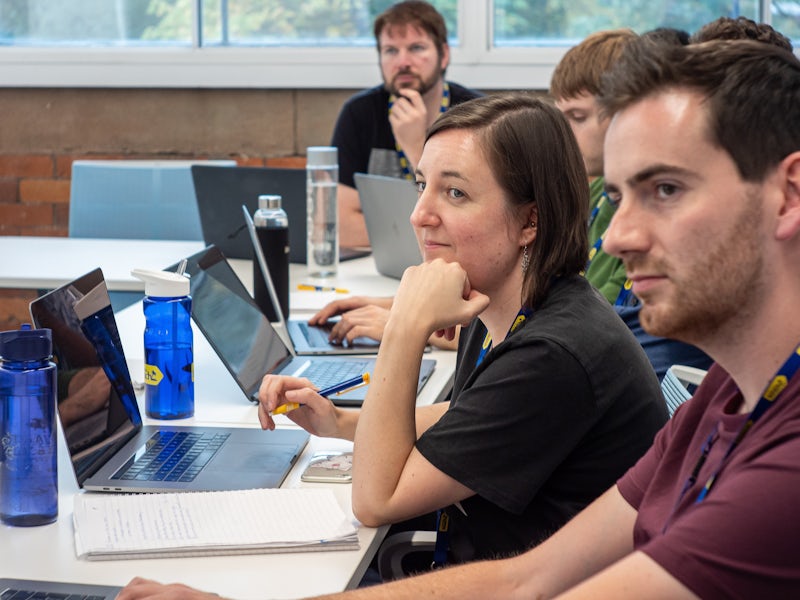 When you're one of the UK's leading online retailers for beach holidays, you'll want a tech team that's growing as quickly as you are. It makes sense that two pioneers of the northern tech community are working together, to ensure the highest level of training is available for budding software engineers!
What does the Academy do?
The On The Beach Software Engineering Academy teaches trainee software engineers Javascript, C# and Ruby, so that they are ready to start a career with On The Beach.
Academy attendee numbers have seen a big boost this year, with 15 people from diverse walks of life enrolled compared to 6 last year. From neuroscientists to Northcoders graduates, there are people with diverse life experiences on the Academy this year (including a Chieftain Heir from a Royal Zimbabwean family, who is furthering their career in tech after graduating from their computer science degree course.)
On The Beach believes that ongoing training and support is a crucial part of creating an innovative, engaged and happy workforce, and wanted to expand their Academy curriculum this year to cover a broader spectrum of the coding languages that participants will go on to use in their careers.
And with regular support from tutors and mentors from both Northcoders and On The Beach provided to all trainees (as well as peer support being strongly encouraged) there are few better ways to kick-start a career in tech!
"We want to make sure On The Beach students have the confidence and the set of skills they can take straight off into the company as soon as we're finished. It's just the case of delivering the content to the students; they're very self sufficient so they go ahead and start solving problems. We're there to help them if they get stuck on anything."
Northern Talent
On The Beach, like Northcoders, believe in the untapped talent in the North West and believe collaboration is the way to help it flourish.
This is the first partnership of its kind for both Northcoders and On The Beach. The Academy runs from On The Beach's offices for 9 weeks, with support from our tutors, for 6 weeks. From product training to UX, new programming languages to Agile, they'll be going well beyond the skills and experiences usually expected for new software engineers.
The thing that attracted me to On The Beach is when I was looking for a job I was looking for somewhere that valued you as an individual. I think it's important, sometimes it's difficult to tell if you're going to be valued in the future. Seeing their online reviews from staff was helpful, and when I arrived it was awesome. The added support from Northcoders has been fantastic."
Why On The Beach?
A number of Northcoders graduates are working at On The Beach, and we've heard nothing but good things, and in particular, that the support is second-to-none. If that isn't a good sign, what is?
On The Beach provides a thorough support network of mentors and peers, with guaranteed employment after graduation from the Academy. You'll always have the support you need to try to reach your goals and learn new things.
They're all about supporting local people – right down to their choice to work with a local training provider... Us..! Like us, On The Beach take a great deal of pride in giving opportunities to people from different backgrounds and giving beginners the chance to kickstart their coding career.
"If we don't train future employees, then we're never going to continue to improve. If we don't invest in people then people don't improve. We want diverse and passionate software engineers. Working with Northcoders has allowed us to hook into that market. This year we've gone a lot bigger, we want to continue to grow our team. We've got such good experience of working with Northcoders in the past that we know we're going to get the talent that we need to grow and build."