Bootcamp Life
Transforming from Artist to Software Developer: A Journey of Passion and Perseverance at Northcoders Bootcamp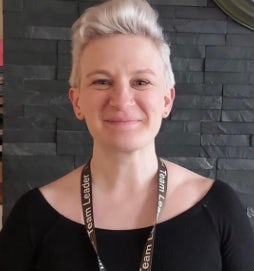 Today we caught up with recent graduate, Sula Hancock, to discuss her journey to Northcoders and how she found the bootcamp. 
Before Northcoders I trained to Masters level in Fine Art and worked as a freelance artist/illustrator for ten years. I travelled often and did a bunch of different jobs on the side to make ends meet (teaching, recruitment, admin, bar work) and things ticked along fine. 
As I hit my 30s I began to want a change, to challenge myself in something new. I wrote my first line of code in November 2022, simply because I had zero understanding of coding and wanted to venture out of my comfort zone (more on comfort zones later!). In my first week of learning, I'd gone from feeling complacent and lost, to energised and fully engaged in learning something new and extremely interesting.
I began to structure my learning by completing the SheCodes Basics course which covered foundations in Javascript, HTML and CSS. I also worked on beginners level katas, researched popular coding languages and considered how I could leverage my existing skills into a career in tech.
What course you are doing and why did you choose it?
I did the Software Development Course, which I chose because I have a goal of becoming a Front End Developer so I can combine my creative skills with logical problem solving. I get a real kick out of seeing something I've made pop up on screen! The idea of a career where I'd need to be constantly learning new skills and experimenting with new tech is also very exciting.
Why did you choose a bootcamp?
I was advised by a number of friends in tech to find a reputable bootcamp or training programme that would be fully up to date with industry expectations and provide a network of fellow students and mentors. I felt a bootcamp would give me structure, keep me accountable and test my limits whilst I built a solid foundation level of industry skills. 
A friend advised Northcoders as they helped him on his journey into data five years previously. I worked through the entry prep, attended online introductions and visited the Manchester site and got a good feel for how Northcoders works and their values. I decided to take the jump and then found that the course was fully funded, and to top things off, I received the Gender Diversity Fund, which meant I didn't have to work a part time job whilst studying. This made a huge difference as the course is intense and I believe the pressures of a job on top of study would have been too much for me personally. 
What did a day in the life look like for you?
I attended the Leeds office most days. It's a great space, super friendly, supportive and full of beautiful plants! There's plenty of refreshments and work spaces are immaculate and very comfortable. 
7am - Get up, get ready and travel by bus into centre of Leeds
8:30am - Meet course mates and read the day's notes, ready for the morning lecture
8:45am - Lecture starts. We join students in other offices and remote students on zoom, where we are introduced to a new subject through fun, interactive lectures. There's always time to ask questions during and after lectures. There is no such thing as a stupid question at Northcoders, and tutors and fellow students are supportive. 
10am - 12:30pm - We either pair with another student or work solo on challenges designed to test our understanding of the morning's lecturer content. All students come with a different level of experience and understanding, so each day is very different. I'd say 99% of my pairings were enjoyable and positive. Sometimes I feel I am behind, as I didn't pick things up as quickly as others, but both tutors and fellow students help me to understand things and sometimes I help them, which feels great.
Tutors are on hand to help throughout the day, you simply make a request via Slack and they come to see you! Focus is on helping you find answers yourself with tutor guidance and all tutors are so very patient and eager to see us succeed. 
12:30 - 1:30pm - Lunch. There are some fabulous food options near the Leeds office! We grab lunch and chat outside in the sun or play games inside. Sometimes there are presentations from hiring partner companies. 
1:30 - 5pm - We most often continue with the challenges before meeting as a seminar group to  watch one of the tutors work through a couple of the challenges. This is a great time to ask questions and laugh about the (now seemingly silly) ways that we'd approached a problem ourselves. There is a lot of laughter! Sometimes we'd have extra talks from the careers team
5pm - End of the day! Bus home, eat, think about what I'd learned that day and relax.
Weekends: 
Saturday: Park run in the morning, see friends in the afternoon/evening
Sunday: House jobs, plan the week ahead, rest
The speed that you learn at bootcamp is rather extreme. It's a real challenge to go in everyday and learn something brand new before yesterday's content has had time to sink in, but so worth it!
My biggest hurdle has been imposter syndrome, which has lead me to speak to tutors and the mental health first aiders who have been extremely understanding, shared their personal experiences and made me feel I could keep chipping away at the huge challenge ahead of me, which has transformed the way I think about myself and my capabilities. 
The impact that the bootcamp has had on you
In the first couple of weeks I would code after hours and at the weekend, but that was leading to burnout. I now do a bit of reading in the evening (no more than 30mins) and think about what I've learned that day. There is no expectation from tutors that we do extra work out of hours. I integrate regular breaks in my day, drink plenty of water and eat well. I plan my week in advance and make sure I don't overdo it at the weekend. Sleep is very important and I made sure I got lots of it!