Bootcamp Life
Two Northcoders Take on the 2019 Global Legal Hackathon in Manchester

Last month, Northcoders Nick and Susie joined forces to take on a challenge at the Global Legal Hackathon in Manchester.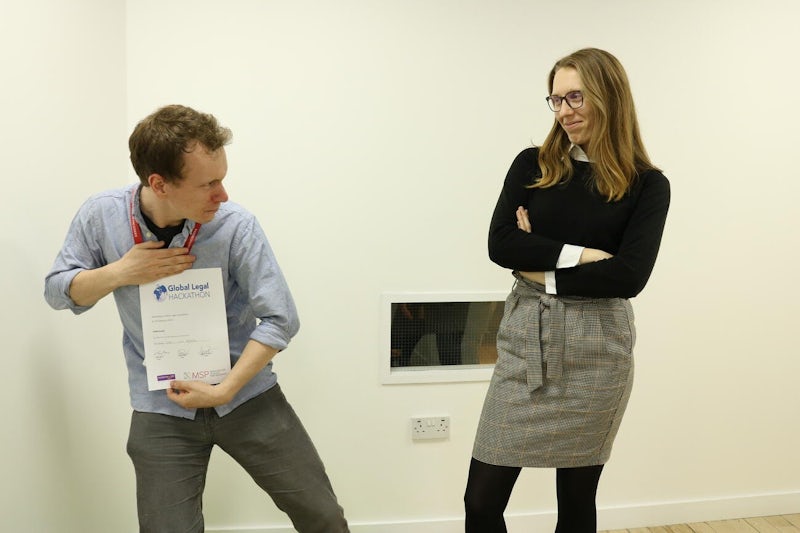 The two-day event brought together representatives from the world's largest law firms, corporations, and tech innovators. The challenge? Create tech solutions to progress the legal industry and improve the practice of law and access to legal services.
We caught up with Nick and Susie after the hack to find out how they found the experience... 
Hi Nick. Hi Susie. Congratulations on placing third in the hack. What made you want to take part in the event?
Nick: One of my fellow coders in my cohort asked us if anyone was up for trying it, and I said it sounded fun. I didn't know what it was at this point, and was just sold on the name!
Susie: I wanted to put my knowledge into practice, see what app development looks like in real life, and challenge myself while actually doing something meaningful. The project we worked on is also an amazing addition to my portfolio.
Which challenge did you tackle?
N: Creating a website/app/business model and presenting these three within the space of a single weekend (only about one and a half days of work!). This, combined with only three weeks of coding experience from Northcoders (and no prior experience) was challenging.
S: Most lawyers, especially in-house lawyers and those in big firms, have to deal with a huge amount of emails on a daily basis, often having to use technologies to deal with their email workflow and project management, which rather harms their productivity. Our tech solution was aimed at making lawyers' work easier by developing a dynamic solution for email handling.
Can you tell us a little bit the app you created?
S: The idea behind our app, Medeia, was to create a simplified email client to improve productivity with a system based on tags (getting rid of unnecessary forwards and CC's) with collaboration tools and using AI summarisation to speed up email handling.
How did the skills you've picked up at Northcoders help you with the challenge?
S: Although my time at Northcoders had been relatively short before I decided to take part in the Global Legal Hackathon, I feel that my problem solving skills have since greatly improved and I definitely became more adept at learning to use new technologies thanks to the course. I managed to pick up the pace of the competition really fast. I can only imagine what a difference there will be by the end of the course.
N: Knowing how to use GitHub and VS Code to access specific code was helpful. We were able to find a basic website template and edit it accordingly with our specs using our VS Code experience.
What would you do differently in your next hackathon?
N: Win instead of coming third out of six teams! Also, work on the presentation to better present why our business model was the most viable, and do prior research as to what it entails. No infiltration-style 'hacking' was involved.
S: I would probably decide what technologies I want to use for my part in the project earlier on in the competition, so I have more time to work on the actual project and there is no questions later on about how we will approach technical side of the challenge.
Will you take part in more hackathons in the future?
N: Yes, I would like to try a variety of different styles of hackathon, so I can work with lots of people from diverse backgrounds.
S: Absolutely! It was an amazing experience. I learnt so much about app development, websites and design! It was also, of course, an amazing opportunity to network, so I am really looking forward to my next one!
What advice would you give to someone who is learning to code, or trying to improve their coding skills, and is thinking of taking part in a hackathon?
N: There are so many other coders and programmers there who can teach you a lot. Even if you have just started to code like I had, it is definitely worth going as everyone is friendly, and willing to mentor you. Just tell them you are new, so they don't expect you to do everything!
S: Don't let the fear of not knowing enough, or thinking you're not good enough, stop your from participating in something! Also, don't be afraid to ask questions. I received so many invaluable tips from experienced developers and marketers about how to approach arising issues.
Ready to start your coding journey?
At Northcoders, we teach the skills employers are looking for. The result? On average, students are hired within two weeks of graduating. Find out more about how our 12-week full-time coding bootcamps in Leeds and Manchester could help you launch a new career in tech.