General
Why We're Starting Northcoders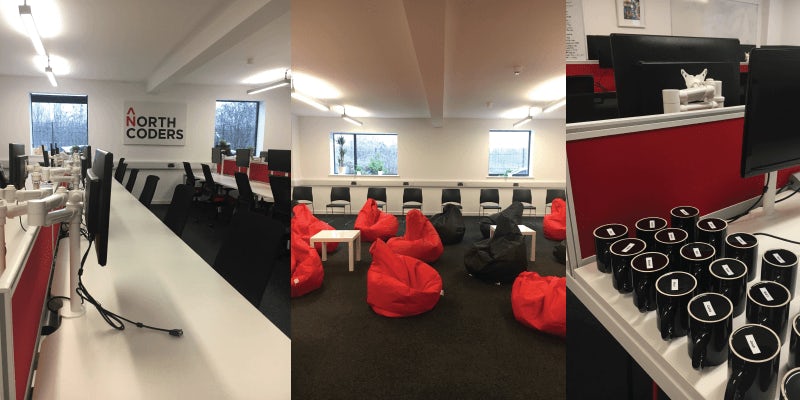 Last Friday, I drove back across the breadth of the North, from Hull where I used to catch ferries home to Belgium as an eight year old, back past York where I went to school, past Leeds where Mum's from and where my beloved grandmother was laid to rest, Huddersfield where Dad's from, Halifax where I was born and then to Manchester where Chris, my co-founder, was born and where my son will grow up.
It was a beautiful, crisp day across the North (except Manchester, of course) and a great day to drive. Two things kept running round my head the whole way back:
I love the North. Why did I spend so long trying to love London?
Through some stroke of luck, I've reached a point in my life where I have the skills, experiences and motivation I need to make a huge difference to many, many people's lives here.
Those same two thoughts have been driving me for months.
Good, better, best
Chris and I have been talking about starting our own code school since we met, on a code school, in London in 2013. Even back then, we felt we could do it better — there were just some small hurdles, like not knowing how to code, to overcome first :) Since then, two things have driven me personally to this point where it's actually happening.
Firstly, realising that creating a great code school here in the North is doable. After experiencing the brilliant San Francisco-based Hack Reactor school first hand, I'm inspired to bring best practices in developer education to the North of England and create one of the world's best code schools here. I've no misconceptions about how hard we'll need to work to make it happen but, it's doable, and so we'll do it.
I enrolled at Hack Reactor — my second code school as a student — not just to get much better at code, but to understand how to teach code like the best. Northcoders' curriculum will be quite different (we love React, for example, and really deep-diving into Node.js is something we're going to be really big on), but it's heavily influenced by the core principles I could see had shaped the Hack Reactor experience.
Secondly, when Chris told me last year, "there's so much demand for coders up here", I went straight online and came across the TechNorth launch event that was about to happen in Leeds. I drove overnight from Bristol a couple of days later to get there for 8am.
Something inside me made me go — it's the only way I can describe it. If I wanted to just 'open a code school', I could have opened one in Bristol. Bristol/Bath/Cardiff have no shortage of demand for coders and opening there wouldn't involve upheaval for a settled family, but I never wanted to just 'open a code school'.
A few quick chats at the TechNorth event convinced me that this is what I'm destined to do. Building a great code school in the North, for the North, isn't just doable, it has to be done.
What does a Northcoder look like
I personally believe there are many truly great Northerners of the future. Some of you won't have written a single line of code yet, but you'll become great because of the code you've yet to write. There is no rule that you have to live in San Francisco to do amazing things with code.
Many of you are passionate about other things right now but it'll be code, and the world of opportunities it opens up to you, that'll set those passions alight. Code will no doubt become a passion for you too because of what it makes you capable of.
Some of you haven't discovered what your passion is. The one thing you're sure of is that you're not passionate about what you're doing now. Try coding. It's one of the movements of our time. Don't let it pass you by without at least giving it a go.
Finally, some of you have started coding and are struggling. Not just with writing code, or knowing what to focus on, but more deeply with whether you're even cut out to be a coder. If the thought of giving up makes you sad, don't give up. That alone tells me you've got what it takes. Your struggles are normal — come and join us, 'struggle better' and learn to appreciate the struggle for what it is: being challenged (all the time) and growing (rapidly). The two go hand-in-hand.
Of course, there are many, many more Northerners who might not reach 'greatness' by others' criteria, but who'll nonetheless live very happy lives because of a career in code. Who you code for and what you get paid factor into that, of course, but really it's about who you code with, being able to do it your way (and that being more and more true as you get better and better), the satisfaction you get as you try to master something amazing and, if you're lucky, being part of something bigger, something that itself is great and meaningful.
Why we're here
Chris and I can't wait to see the Northerners we train become Northcoders and go on to fulfil their potential, and for the North to fulfil its potential, in part, because of the contribution of those Northcoders.
That's Northcoders' purpose. That's why we're here.
James, Co-Founder, Northcoders