Press Release
Northcoders launches second wave of fully funded Skills Bootcamp in Coding course following new £1.65m Department for Education funding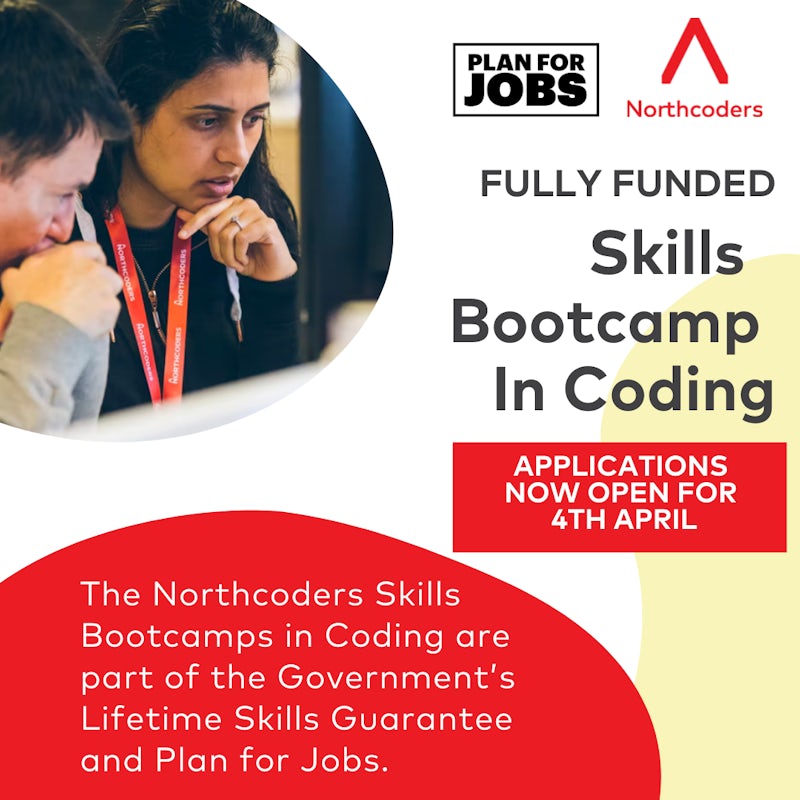 After securing a further £1.65m in funding from the Department for Education, Northcoders – the Newcastle, Manchester and Leeds-based independent provider of training programmes for software coding – is launching the second wave of its fully funded Excellence Scholarship Scheme which is a Skills Bootcamp in Coding and part of the Government's Lifetime Skills Guarantee and Plan for Jobs.
The announcement follows the successful initial roll out of the course which started in August last year. Northcoders awarded 294 training programmes on behalf of the Department for Education in the six months ending January 2022.
The aim of the Skills Bootcamp in Coding is to help passionate and capable people who live in the North East, the North West, Yorkshire & the Humber, and the West & East Midlands to become the tech leaders of tomorrow.

As before, places will be awarded on individual merit, and to qualify, applicants must be a resident of one of the specified areas. Successful applicants, who will join the April cohort which starts on 4th April, will be taught remotely, will not be charged any fees and there will be no hidden costs to pay. 
In just 13 weeks, participants will learn the skills needed to become a junior software developer. The programme will be taught in JavaScript. However, Northcoders' tutors are experts in a range of languages so they teach in a way that makes learning new languages natural. Three in four Northcoders graduates code in a language other than JavaScript.

Students will also be provided with careers advice, CV writing workshops and given access to Northcoders' internal jobs board, where they will be able to view and directly apply for junior software developer roles.
Applicants must be aged 19 or over. They can be in work, self-employed, recently unemployed or returning to work after a break, and looking to quickly increase their skills in a specific area and fast-track into a new job.

Chris Hill, CEO of Northcoders, commented:"Thanks to the new funding, we are delighted to be able to launch the second wave of the scholarship scheme. Since August, we have helped nearly three hundred people kick start a new tech career which demonstrates that the demand is out there. The programme is an amazing opportunity for people with little or no coding experience to enter an exciting and evolving industry."

Applications are now open and can be made here: Coding Bootcamp | Northcoders Skills Bootcamps