Press Release
Northcoders makes six new appointments across the business.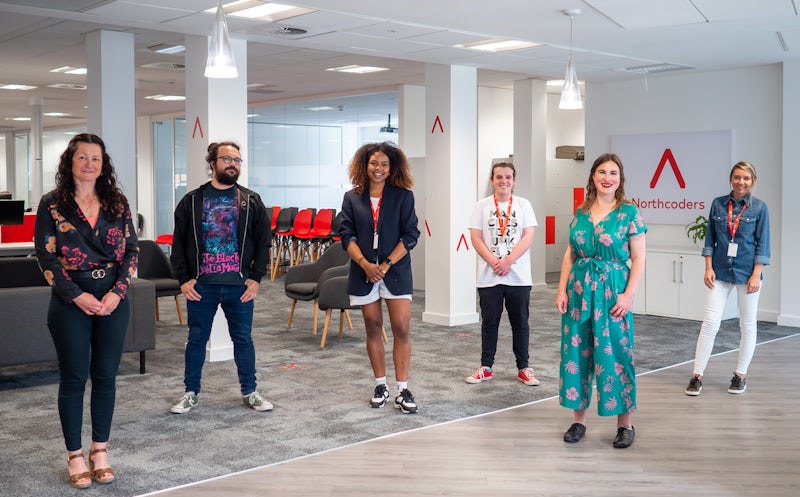 Northcoders – the Manchester and Leeds based software development training and solutions provider – has made six new appointments across the business.

The first starter is Gina Hilton who is Northcoders' newest career development manager. During her career, Gina has specialised in recruitment, business development and training. Her new role will see her support Northcoders graduates and help them find their dream jobs in tech. Gina, who has recently relocated to Manchester from Singapore, previously worked at LinkedIn and then Facebook where she launched a product similar to Slack into the Australian large enterprise market.

Diya Okorie has joined Northcoders as a partnership success manager. Diya's core role and responsibilities will be to onboard apprenticeship candidates, drive employment engagement and business development. Prior to joining Northcoders, she worked as an employment engagement consultant at the Growth Company.

Duncan Crawley (they/them) has been appointed as a junior software developer and mentor. Duncan is part of the classroom team, so will provide one to one support for learners on the Northcoders bootcamp programme. Duncan, who is a previous Northcoders graduate, also holds a level three education and training qualification and a degree in childhood studies.

Daniel Saleh also joins as junior software developer and mentor. He too is a Northcoders graduate and, over the years, has worked as a self-employed musician and guitar tutor.

Sarah Browncross is the apprenticeship team's new solutions manager. Sarah became a software engineer after completing the Northcoders bootcamp in 2020. She previously worked at Science Museum Group for six years.

The final new appointment is Sarah Cooney who is the new HR and office manager. Sarah joins Northcoders from the Co-operative Bank.

Gina Hillton said of her new role: "I've known about Northcoders for a long time and have always respected its mission, ethos and commitment to developing and nurturing the best tech talent in the UK. I'm excited to now be playing my part in helping drive the future of the company and the careers of our graduates."
Chris Hill – founder and CEO at Northcoders – added: Northcoders is going through an exciting period with new teams, products and clients. This new intake of experienced people into the business is another step towards achieving that growth. Each person brings with them some fantastic experience, so we are delighted to welcome them. I'm sure they will add value to the company, our students, hiring partners and clients.

Since its inaugural course in 2015, Northcoders has helped over 750 people switch careers into tech, with average starting salaries of around £25,500. Whilst 95% of Northcoders secure a software engineering role after graduation.  Northcoders' main campus is at Manchester Technology Centre and it has a base at Platform in Leeds.

Over the past three years, it has been selected as one of the country's brightest tech stars in Creative England's CE50 list and was named Business of the Year at the 15th Annual Chamber Business Awards in 2018.  It has also launched scholarship schemes and a deferred payment programme aimed at women and gender minorities, as well as those who identify as BAME or LGBTQ+, have a disability or have had limited access to education, to help address diversity in tech. The firm also relocated its Manchester campus to a new 10,000 sq. ft space at Manchester Technology Centre on Oxford Road in early 2020.