Graduate Stories
Coordinator to Front End Developer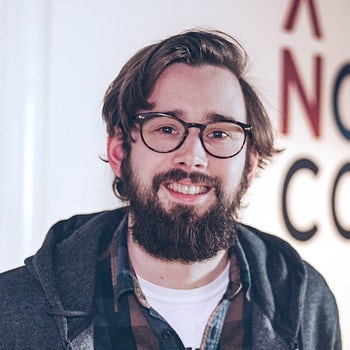 Adrian
Front End Developer at Beautyworks
How did you find your time on the bootcamp?
At first I was a little daunted as I had no previous tech experience and hadn't been in a classroom environment for years. However the Northcoders staff were really welcoming and I was able to bond very quickly with my fellow students. The course itself was one of the most challenging things I've ever done, but with the option to repeat blocks I was able to take my time and get the most out the experience. I was amazed at how much I was able to learn in such a short amount of time and have come out the other side more confident in my abilities moving forward and proud to be part of the Northcoders alumni.
The Northcoders team are one of the friendliest groups of people I've ever met and are really enthusiastic about what they do
What were you doing before the bootcamp and what made you apply?
Before I started the course, I had been working as a Workflow Coordinator at a law firm. My department set up incoming work on our digital filing system for our Fee Earners. As a Coordinator, I was responsible for identifying problems, such as bottlenecks and finding efficient solutions. I would regularly meet with the Software Management Team for their support and enjoyed seeing how they were able to help break down our problems and find creative solutions using tech. After talking with a few people on that team, I decided to pursue this interest which is ultimately what lead me to Northcoders.
What was the support like on the course?
The Northcoders team are one of the friendliest groups of people I've ever met and are really enthusiastic about what they do, as such the lectures were always really engaging and if I ever struggled there was always someone on hand happy to break down the concepts and provide support.
How much support did you receive from Northcoders with your job search after the course?
The jobs team were great at getting me ready for when I left the course and provided great advice on putting together my portfolio/CV. During the last block of the course they hosted some really useful workshops on CV writing, interview prep and applying for jobs, so I was ready to hit the ground running when I finished. In the three weeks between finishing the course and being offered a job, they kept in regular contact and were really quick at setting me up with interviews as well as following up with valuable feedback.
What advice would you give to anyone thinking about applying?
The best advice I would give to anyone learning to code is to be patient, be consistent with practice and go at your own pace. I found coding to be really intimidating when I was starting out, but over time I learnt how to break down problems into smaller parts, find the simplest way to get something working, then refactor when I was comfortable in my understanding.
Anything else you'd like to add?
Doing the course was one of the most challenging things I have ever done, but it was such a great way to learn a new skill in a short amount of time. Having come out the other side I feel excited about starting my new career in this industry and am really grateful to the Northcoders team for helping me get here.