Graduate Stories
Graphic Designer to Software Engineer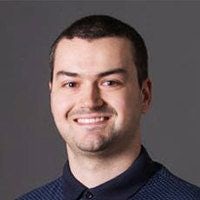 Andy
Software Engineer at Circle Loop
How did you find your time on the bootcamp?
Probably one of the toughest things I've ever done, whilst at the same time one of the most rewarding. I first came to Northcoders on the Ignite introduction course having virtually zero experience in coding. I then progressed onto the main course and really enjoyed learning and working with my fellow students through the weeks. There is a very fast pace to learning but by the end of the course I felt confident going into job interviews and working on tech tests.
Probably one of the toughest things I've ever done, whilst at the same time one of the most rewarding
What were you doing before the bootcamp and what made you apply?
Before Northcoders I was a Graphic Designer with 10 years experience. I'd always had an interest in coding through working closely with Developers in various roles, and after being made redundant in August 2016 I took the opportunity to learn how to code.
What was the support like on the course?
Support was really easy to access, all the tutors were really friendly and approachable, whether it was in or out of the core hours. Even after I'd finished the course, the tutors were more than happy to help me out.
How much support did you receive from Northcoders with your job search after the course?
The support in searching for a job was brilliant. Amul was always available and true to his word I was in work the first week in June! (3 weeks after finishing). During the course we also worked with Clos consultancy and it was great to chat one-on-one with Becky and James about the job industry as a whole and get really practical advice on CV/interview/tech tests.
What advice would you give to anyone thinking about applying?
Having been working for just over 3 weeks I can honestly say what we studied at Northcoders is the latest technology being used in industry right now. The practical experience I got was the perfect preparation for my Junior Software Developer role. I would definitely recommended Northcoders to anyone thinking of a career in coding. I don't think learning to code in your own time would benefit half as much.
As well as all the support you get throughout and after the course, it's been great to be in touch and still be a part of the Northcoders community once in work.