Graduate Stories
Fundraising Executive to Junior Engineer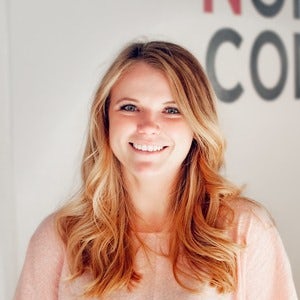 Anthea
Junior Software Engineer at Mutual Vision
How did you find your time on the bootcamp?
Northcoders was for me, like most people who take the course, a massive (and a little bit risky) leap. But any worries I had before I started quickly melted away as soon as the course began. The Developer Pathway covers everything you need to know to start as a junior and be job ready but allows you the time you need to get comfortable with the concepts. It doesn't just teach you how to code, it teaches you how to learn. The learning curve was steep but the incredible teaching team made sure to push us out of our comfort zone without overwhelming. My cohort gelled really quickly and it was great to work alongside a group of dedicated and fun people who became great friends. My Northcoders experience exceeded my expectations and left me confident I made the right choice to change careers.
Any worries I had before I started quickly melted away. [During the last 3 weeks] we simply had to choose a few companies that we were interested in... and they would get back to us with interview details.
What were you doing before the bootcamp and what made you apply?
I was a events coordinator & fundraising executive for a Liverpool charity that belonged to a Radio Station. I loved what I did and because of the media connection I got to do so many exciting things in the role. However, with industry changes and development opportunities few and far between I decided to shake things up and look at other careers.
Coding had always fascinated me, since playing around with my MySpace profile HTML/CSS as a teen, but I.T. lessons didn't engage me and I dropped it as soon as I could in school - so the tech industry never felt like a viable option.
Cue Northcoders! Reading & hearing testimonials about the course (one of which came from my brother) made me confident that I could make the same career change hundreds of other Northcoders students had despite my background not being conventionally technical.
What was the support like on the course?
The teaching team were incredible. They would encourage questions and discussion. They made lectures fun & engaging. And they were always on hand to give you as much time as you needed during sprints to explain concepts you were struggling with or even to give you a pep talk if you were feeling the creeping imposter syndrome. The tutors cultivate a great atmosphere in the classroom/lectures and because they have all done the course they know too well exactly how you are feeling. One thing I really loved was that they asked for feedback at the end of every block. They were constantly looking to improve and almost tailor the course and the teaching to the current students.
How much support did you receive from Northcoders with your job search after the course?
I had a great experience with the careers team. While we were working hard on our project in the last 3 weeks they were calmly preparing us for interviews and finding a job. We simply had to choose a few companies/jobs that we were interested in off the job board and they would get back to us with interview details. Two weeks to the day of graduating, after an interview with the one company I was hugely interested in I was offered a job as a junior software engineer.
What advice would you give to anyone thinking about applying?
I would say that anything you can learn in your own time is not time wasted, but the knowledge and skills you learn from programming 8 hours a day, 5 days a week, from dedicated tutors in small classes is priceless. I spent a year learning to code on my own before applying for Northcoders. I don't regret it but it was in no way necessary to do the course. A keen interest and willingness to learn is all you need. So invest in yourself, apply to Northcoders and see where it takes you.
Anything else you'd like to add?
Just a huge thank you to all the tutors and staff at Northcoders :)