Graduate Stories
Commercial Analyst to Software Developer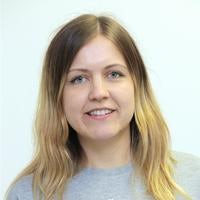 Emilia
Software Developer at Intechnica
How did you find your time on the bootcamp?
It was really intense but definitely a fun time! Day to day, you wouldn't necessarily know what you would be doing tomorrow, and a lot of the time this was daunting but ultimately you were always left impressed by how much can be learnt in a short space of time with the support from a great group of tutors!
You could always speak to any of the staff and they would try to help even when it's not their remit
What were you doing before the bootcamp and what made you apply?
I was a commercial analyst at a media agency which was ultimately a very uninspiring job. Programming on the other hand had been an interest of mine for a while, and I just wanted to be in a job where I could actually see tangible results of my work and hopefully do things that are helpful to other people!
What was the support like on the course?
The support, from the very well structured lectures, to NC help, to simply knowing you could always speak to any of the staff and they would try to help even when it's not their remit (hello Daryl who was happy to help me with a couple of Firebase queries during the project phase even though he wasn't our assigned supervisor!) was amazing, and I always felt comfortable speaking to any of the tutors. And they certainly have the expertise required to help!
How much support did you receive from Northcoders with your job search after the course?
I really thought Amul went all out to help me and I honestly don't know how he has time to sleep if he's helping 23 other people to the same extent at the same time. I felt it was really helpful to have that initial conversation where we talked about the sort of roles I was interested in, because this meant that when it came to applications, I knew Amul wouldn't try to push me towards a job I wasn't keen on. I can only imagine the extent of the work that goes into building relationships with some really impressive hiring partners who probably have scores of applicants for each role anyway! In addition, all of the boring bits, like arranging the interview times, handling offers etc was also done by Northcoders which left me with a lot of time to practice for my interviews!
What advice would you give to anyone thinking about applying?
Definitely apply, even if you don't get in first time you will have learnt so much in preparation for your test at Northcoders! And if you do get in, you will have an opportunity to learn so much in such a short space of time, hand on heart I don't think you'll find an online course out there that would come even close.
Anything else you would like to add?
One thing that I would really like to point out is that though when it comes to the point of interviewing for jobs you are potentially competing with people with commercial experience, or people with a few more years coding as a hobby, quite clearly Northcoders give you more than enough to beat those people! And after only 12 weeks :)