Graduate Stories
VFX Freelancer to Software Developer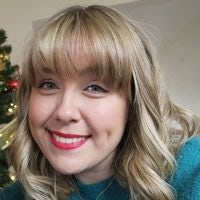 Laura
Software Developer at Degree 53
How did you find your time on the bootcamp?
Northcoders is tough! There is no sugar coating it. The skills will not be handed to you on a plate. You have to work for them, put in long hours and completely commit to 12 weeks of your life to learning something new. It's hard, there are times you will feel like you can't do it (we all felt that) but trust me, if you have the passion to try and are willing to jump in at the deep end then you will be welcomed with one of the best support systems that education in this country has to offer.
Within one week of graduating I had landed my first developer job
The tutors are fantastic, the lessons and the course are structured in such a way that even people who have not coded a single day in their life (aka me before I started) can get running with the fundamentals pretty quickly. You'll make a great group of friends along the way who will also be going through the highs and the lows (wait until you reach building your own server!!) with you, but through all this, you will be having fun.
The weeks will fly by without you realising and before you know it your newly acquired skills will have you doing things you couldn't before, like building websites, creating apps, coding to Alexa or designing software. And suddenly you'll be feeling like a total coding superstar and part of one of the most exciting industries on the planet!
Before you have had a chance to catch your breath you've graduated, leaving with a skillset that the industry is crying out for and heading straight towards developer roles that you could only have dreamt about 12 weeks prior. It's then that you can look back past all the mind-bending amount of information you have had to take in, in a short amount of time and confidently say 'yep, that was without a doubt one of the best things I've ever done!' At least I do anyway :) Thanks Northcoders.
What were you doing before the bootcamp and what made you apply?
Before Northcoders I was working as a freelancer in the VFX industry for close to 10 years. Having always loved my job but disliking the lack of stability that my previous industry provided, I grew more frustrated with it and wanted to look to change this. I knew I wanted to stay in technology but wasn't too sure of the direction I wanted to go in.
My boyfriend (who is a Senior Developer) suggested 'why not learn to code' and having seen on his computer screen...what at the time looked like something off the matrix..and having never coded a single thing in my life, I thought 'why not?' and gave it a go. I haven't looked back since!
What was the support like on the course?
The on-site support is fantastic, and a big shout out goes to the Northcoders team who really do go above and beyond in helping the students on the course. There were times during my cohort when we really needed some extra classes to help cement some tricky new concepts we were trying to learn. Without hesitation, the tutors volunteered their time (out of scheduled hours) to put on extra lectures and coding sessions as much as we needed it.
This kind of support made a huge difference to the learning experience and is a big reason why their students are so successful because they really care about your learning.
How much support did you receive from Northcoders with your job search after the course?
The support afterwards was fantastic, within one week of graduating I had landed my first developer job (which I am still in and loving it). They really care about helping find you a job that is the right fit for you and sending you for roles they know you are going to enjoy. From everything like helping with CV's, portfolios and questions prior to interviews, they are always on the other end of the phone and totally supportive every step of the way until you land your first role.
What advice would you give to anyone thinking about applying?
Start off with free tutorials online. The internet has a wealth of free material out there to dip your toes in the water to see you like it. This is super important as the key to learning it is enjoying it in the first place. If you do, you will probably quickly find that it's a mammoth subject and a difficult one to tackle on your own. Once you reach this stage, give Northcoders a shout. They will help guide you through if the course is right for you, and if it is, don't hesitate to sign up. It will be one of the best things you have ever done!
Anything else you would like to add?
A very big thank you to James, Chris and all the Northcoders team! Being able to look back almost nine months on from where I started, now being in the fortunate position of a job I love, an industry I'm passionate about and a future to look forward to, none of this would have been possible without you guys! I'm forever grateful for the scholarship and the chance at a new career at 29! You guys really are helping change peoples lives. Thanks for everything! All the best :) xx