Graduate Stories
Social Worker to Software Developer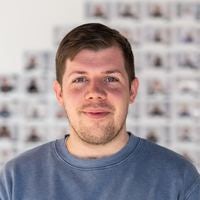 Nathan
Software Developer at Weaveability
How did you find your time on the bootcamp?
To say my time on the course flew by is an understatement. It feels like only a few weeks ago that I was sitting down in the classroom for the first time! The course was fast paced and intensive to ensure that all the relevant technologies were covered, but at the same time there was an appropriate level of depth within each section to ensure that your base understanding and knowledge was secure, inspiring you to explore and push your learning further independently.
For every reason I had to doubt myself, Northcoders gave me a reason to believe in myself and empowered me to make that change for myself and my family
What were you doing before the bootcamp and what made you apply?
Prior to Northcoders I was working as a front-line social worker for a number of years. I had grown tired of the role and felt that I was not growing or developing any further; I'd seen everything in what is a difficult, stressful and unrewarding industry.
I wanted a career which is dynamic and would provide opportunities for growth, profession and learning. Northcoders helped me get on that track.
What was the support like on the course?
From the first day, the teaching staff were attentive and responsive. Many of the teaching staff have taken the journey that we were embarking upon and knew how it felt to be stuck with what seems an insurmountable problem at that particular moment.
Their technical knowledge and skill is unquestionable, but perhaps more importantly; they are truly fantastic, caring and motivated people. Beginning at Northcoders, the teaching team were my tutors and mentors through difficult problems, as I have left - they are friends with whom I will stay in touch with long after the course!
How much support did you receive from Northcoders with your job search after the course?
I can't speak highly enough of the careers team and what they have done for me. One of my nagging thoughts throughout the course was; 'what if I get to the end of this and I'm not employable? can't find work?' etc...
Towards the back end of the course, the careers team really kick in and ensure that you are more than prepared for life after Northcoders. They ran detailed, in-depth workshops looking at developing my CV, interview skills and technical test skills.
I left Northcoders one week, and by the end of the next week, I had accepted a job offer from a fantastic company that really were the perfect fit for me.
What advice would you give to anyone thinking about applying?
Take the plunge! Do it!
Since starting the course I have spread the joy of coding to many of my close friends and family members. It may seem daunting, but the coding community is a community like no other and there are many wonderful people around to help you.
Northcoders is an embodiment of that community. Once you're a Northcoder you're part of a group of people that are absolutely passionate about coding.
When initially considering the course, I called and spoke to the onboarding staff. I explained maybe ten or fifteen reasons why my situation wouldn't lend itself to undertaking a total career change and embarking on a bootcamp such as this. For every reason I had to doubt myself, Northcoders gave me a reason to believe in myself and empowered me to make that change for myself and my family. For that, I will always be grateful.
Anything else you would like to add?
Northcoders taught me how to learn. After learning JavaScript on the course, I am now a Junior C# developer. Before starting the course, I didn't know where to start with learning to code, but now I am confident that I can pick up any language and teach it to myself!