Graduate Stories
Film Producer to Junior Developer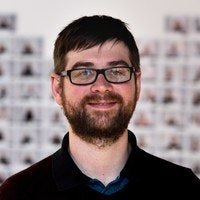 Seth
Junior Developer at Jaguar Land Rover
How did you find your time on the bootcamp?
Northcoders is a fantastic programme and I had a great time! If I had to describe it in three words I'd say its challenging, supportive and fun. The days are very full-on, but the teaching team and the curriculum make sure that you are constantly learning with your fellow students and not stuck for too long. And I made some great friends along the way!
I interviewed at several really interesting companies before accepting an amazing opportunity with Jaguar Land Rover
What were you doing before the bootcamp and what made you apply?
I'd been working in post-production for 8 years - in the film industry in London, and then as a VFX-producer in Media City when I moved back to Manchester. I'd enjoyed various roles throughout my career, but eventually the problems I were solving were very repetitive and didn't feel like I was learning enough. I couldn't see a path I wanted to pursue in the media, but I discovered coding and realised it was the perfect fit for a career-change!
What was the support like on the course?
The teaching team at Northcoders are all very knowledgeable, approachable and helpful. The lectures are really interactive and you always feel you can ask any question without feeling silly. During sprints help was alway available when I needed it, the opportunity to talk through problems face-to-face at Northcoders is invaluable. The tutors are a lovely bunch, always lots of laughter in both the lectures and the pub!
How much support did you receive from Northcoders with your job search after the course?
Northcoders have a dedicated career team to help you secure your first job after the course. Their hiring partners are diverse and interesting - Northcoders invite companies in every other week to give presentations. Amul and his staff assist you with your CV, handle applications on your behalf and are alway available on the phone which is a huge help. I interviewed at several really interesting companies before accepting an amazing opportunity with JLR.
What advice would you give to anyone thinking about applying?
If you've tried coding, enjoyed it and thought "doing this for a career would be interesting", then Northcoders is for you! You will learn an amazing amount in a short space of time - It's hard work but if you want the challenge then I can't recommend it enough!
Anything else you'd like to add?
I had high-expectations when I started at Northcoders because of their reputation, and they totally delivered!