Graduate Stories
Accounts Assistant to Front End Developer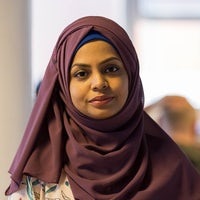 Sumbal
Front End Developer at Zaptic
How did you find your time on the bootcamp?
Every day at Northcoders is a brand new day where you love working on exciting & challenging tasks and learning best techniques of software development.
I thought finding [remote work] would not be easy or quick, but I can honestly say the amount of support I received in finding the right job was completely amazing.
What were you doing before the bootcamp and what made you apply?
Before joining Northcoders I was working as an Accounts assistant and SAP coordinator.
Since completing my degree in BSc (Hons) in Computer Science I was always working part time in jobs which were not completely IT related due to childcare responsibilities.
Now as my kids are growing up, I thought it's the right time to get some fresh training which can help me learn all latest tools and technologies required by industry and put myself back on track.
What was the support like on the course?
The Northcoders teaching team is absolutely amazing. Tutors are dedicated, supportive, passionate about what they teach and are always happy to help. The course is very well structured, fast paced and is up to industry standards.
How much support did you receive from Northcoders with your job search after the course?
I wanted to work a mix of office based hours and remote hours because of my family commitments.
I thought finding this type of job would not be something easy or quick but I can honestly say that the amount of support I received in finding the right job from Northcoders is completely amazing.
They helped me find a job which is a perfect match for my work hours requirement, my skills set and a place where I can progress & grow. A huge thanks to Amul and the whole career team who worked very hard and made all this possible for me.
What advice would you give to anyone thinking about applying?
If you want to be a developer, want to change your career or refresh your knowledge in short period of time then you should join Northcoders.
Anything else you would like to add?
Joining Northcoders is definitely one of the best decisions of my life. I wish I had taken this step a lot earlier.
Northcoders is perfectly right place for people who want to be professional software developers. I thoroughly enjoyed this course and never wanted this experience to end.
Thank you Northcoders for putting me in position so that I can achieve my goals.