We practice what we preach!

We support businesses with their software strategies, using our industry-leading knowledge to create efficient, flexible solutions.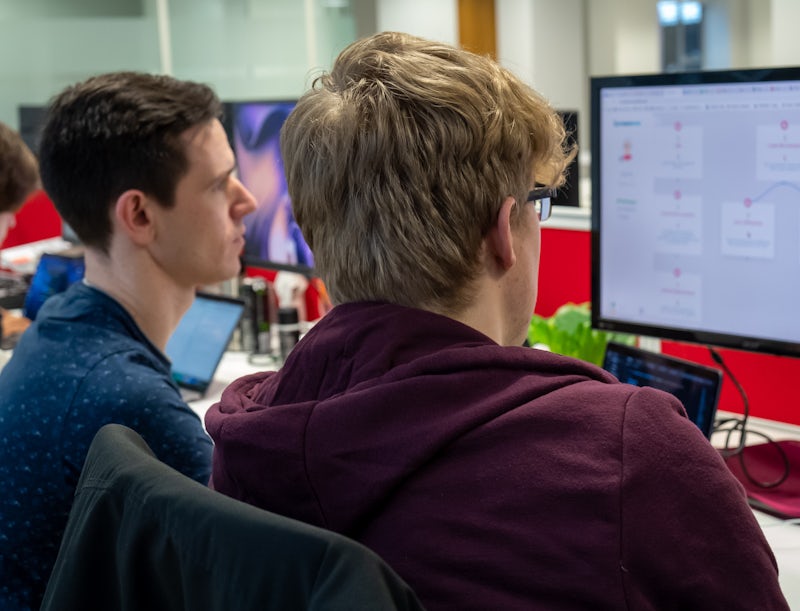 Dev Incubator
Grow effective tech teams off-site

Don't have the capacity to house your junior developers onsite? Issues with space, limited onsite support, and problems finding developers in your area can all cause a strain on your tech. Dev Incubator is our tried and tested solution to address that.
We'll help you effectively grow your tech team; you'll hire a team of our Northcoders, who we will then host. They will benefit from a tech lead and a supportive community provided by us to accompany them as they work on your project. Our tech lead will support your team, guiding them on your working style and tech stack until they are ready to build your tech product to industry standards.
Get in touch
Solutions
Build robust, well-tested software

No tech team? No problem. Our cutting-edge development team has experience building bespoke commercial tech products, including apps, mobile applications, websites, payment systems and chatbots. Upon completion, we will hand over the product for rollout, or you can choose to have it hosted and maintained by our team. 
To help us get a complete understanding of your project, book a discovery session below!
Book a discovery session
Case Study - Manchester City Council

TalkEnglish, along with Manchester Adult Education Service, asked Northcoders to create an app to help their English learners, both in the classroom and at home. 
Our team created a mobile-first application to help them better deliver their course remotely and improve communications with their learners. The app needed to be easy to use and fully customisable, both of which our team delivered on.
Northcoders and TalkEnglish
Case Study - The Idol

theidol.com found itself facing a massive increase in work and needed a trusted partner who could support them with additional resources for their tech team. Using a Northcoders Dev Incubator team, theidol.com were able to realise Dorris, a project they had been looking to get off the ground but didn't have the capacity to realise internally. 
They originally approached Northcoders with creating a chatbot, but our team quickly realised that we could provide them with a solution that will offer them far greater value. The Dev Incubator team delivered a Chatbot Builder with a beautiful UI that can automate any conversation and transaction, track the customer's sentiment, and monitor the performance of different responses. 
Northcoders DevIncubator: Building Software for theidol.com