Recruitment and Hiring
Stats Don't Lie: Why tech is THE industry to work in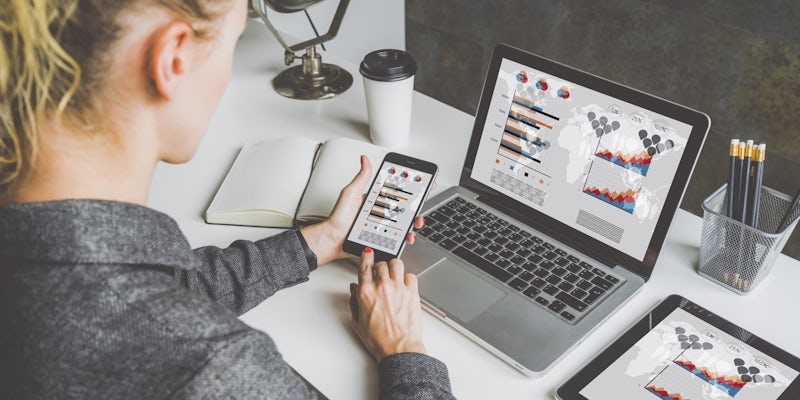 Considering changing your career to work in tech? You're not alone. Google Trends data suggests that people are searching more often for careers in tech, with a steep increase over the last 18 months.
Although it's great to hear all the good things about working in this industry, true coders like to put things in numbers! We've broken down some of the key figures that you should know before taking the leap.
Companies NEED people in tech
In 2016 the House of Commons Science and Technology Committee published a report with some alarming statistics.
There are a few things we can read into these statistics. Businesses are striving for digital development, but there aren't enough people working in tech to help them. Because of this, growth is slower and costing the country billions annually. If there were more people with the right tech skills to fill these vacancies, more companies would be able to achieve their business goals.
Businesses are paying well for the right people
There are not a lot of jobs where you can start a career with less than 6 months experience and earn over £20,000. According to Payscale, entry level software engineers and developers with less than 1 year experience, can expect to earn up to £27,000. The Digital skills crisis report found that the average advertised salary for digital roles is 36% higher than the national average.
And for a Northcoders graduate, the news is even better. After completing The Developer Pathway coding bootcamp, the average Northcoders graduate starting salary is £24,924 as of June 2019, with some even being able to start as mid-level developers!
The opportunities are endless
Everyone starts at the same level when it comes to learning code, but once you're in a career, the learning doesn't stop there. If you're curious and creative, you'll be extremely pleasantly surprised at what a job in tech has to offer you! Not only are opportunities in terms of pay absolutely fantastic (around £50,000 in the North of England according to Payscale,) but a job in tech is not a job you'll often be bored by! The industry is constantly evolving and you need to grow with it to further yourself. If you're passionate and dedicated, tech can be a truly rewarding and fulfilling career.
So many different types of companies are hiring developers, too. Northcoders works with over 100 businesses, from start-ups and small companies like Visformatics and Silverchip to large corporates like Barclays, Moonpig and MoneySupermarket. And as a Northcoders student, you'll be even be able to take advantage of our in-house team of career development specialists, who can even set up interviews for you!
Increasing support for people of minorities
The current gender gap in the tech is 17% women or non-binary genders. This is a disappointing statistic, however we, and companies like us, are working to address this. 38% of our current students identify as women or minority genders, and with incentives such as Study Now, Pay Later, we're breaking down barriers to help women and those belonging to gender minorities access a coding education like no other.
The issue is being talked about more frequently within the industry and as part of the bigger picture. Girls Who Code reports that about 74% of young girls express interest in STEM fields and computer science, so it's clear that some people aren't being deterred. With media outlets like The Observer and The New York Times addressing the issue, people outside of the tech industry are discussing this problem in an effort to help close the gender gap, but it won't be completely resolved until businesses actively hire more women and minority gender people.
Now you have the statistics, you should let your intuition and passion for code help you make your decision. Knowing that you can build a career in a growing industry where your work is needed is great, but think about whether coding is right for you. Our FAQs page answers any questions might have about beginning your journey and you can always get in touch for a chat.